Notes from the Manager
Related Strips: #557: The Third Miracle, Part Three; #561: A Night in the Patio, Part One; #562: A Night in the Patio, Part Two; #563: A Night in the Patio, Part Three; #564: A Night in the Patio, Part Four
Chicago's Patio Theater did indeed reopen recently (a couple of weeks ago, actually), so if you're in the area, check it out. Screenings are only $5, so buy some popcorn while you're there and show 'em some love.
A lot of graduations going on this week, too — Chicago Public Schools let out this week, I think, and a lot of Chicago-area colleges are doing the graduation thang, too, so at long last, I thought I'd have Jason and Becky finally finish school this year. (Although I forget if I've ever said in the strip, Kurt never finished college, and Melissa never started.)
My Minneapolis apartment hunt got delayed to this week because of a last-minute freelance gig, so no extra update this week, I'm afraid — so I'll see you on Monday with Multiplex #600… which will just be continuing this conversation, because I think it's kind of silly to celebrate arbitrary milestones in the text of a story. But we can have a party in the Comments!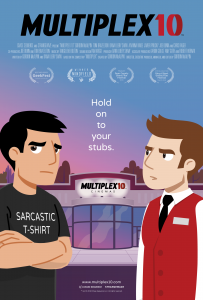 Multiplex 10 is here!
Although Multiplex 10 has ended, an animated prequel/reboot called Multiplex 10 was funded through Kickstarter in 2017 and is NOW AVAILABLE for rent or purchase on Vimeo On Demand, Amazon Video, and elsewhere! And an all-new, irregularly-updated Multiplex 10 web series (set after the short film) recently launched on YouTube! Learn more about the web series on the official Multiplex 10 website!
Stay up to date on all things Multiplex, Multiplex 10 and me (a.k.a. Gordon McAlpin) by subscribing to my newsletter!