Notes from the Manager
Related Strips: #591: Blood Thirst; #592: It's All Fun and Games…; #593: Accidents Will Happen; #594: Grown Ups
Yes, I reached into the depths of my lameness and named this strip after a Coldplay song.
Let's give a round of applause to Angie Booth, the winner of a random drawing among Multiplex: Enjoy Your Show Kickstarter backers. She won the dubious honor of "a job at the Multiplex 10 Cinemas," and while I wasn't originally sure what I was going to do with "Angie 2" when she first appeared, as she came to be known, was always meant as a temporary character.
I actually considered killing her off suddenly almost immediately after introducing her, but I decided that might be a little weird, even for Multiplex. So, she stuck around longer than I planned, and was more popular than I expected, but hey, what are you gonna do?
Thanks for being a sport, Angie. Stand up a wave, please!
Oh, and a slew of new T-shirt designs went up in the Multiplex Store last week, so check 'em out!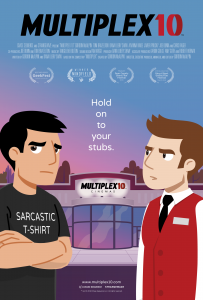 Multiplex 10 is here!
Although Multiplex 10 has ended, an animated prequel/reboot called Multiplex 10 was funded through Kickstarter in 2017 and is NOW AVAILABLE for rent or purchase on Vimeo On Demand, Amazon Video, and elsewhere! And an all-new, irregularly-updated Multiplex 10 web series (set after the short film) recently launched on YouTube! Learn more about the web series on the official Multiplex 10 website!
Stay up to date on all things Multiplex, Multiplex 10 and me (a.k.a. Gordon McAlpin) by subscribing to my newsletter!