Notes from the Manager
Related Strips: #591: Blood Thirst; #592: It's All Fun and Games…; #593: Accidents Will Happen; #594: Grown Ups
Yes, I reached into the depths of my lameness and named this strip after a Coldplay song.
Let's give a round of applause to Angie Booth, the winner of a random drawing among Multiplex: Enjoy Your Show Kickstarter backers. She won the dubious honor of "a job at the Multiplex 10 Cinemas," and while I wasn't originally sure what I was going to do with "Angie 2" when she first appeared, as she came to be known, was always meant as a temporary character.
I actually considered killing her off suddenly almost immediately after introducing her, but I decided that might be a little weird, even for Multiplex. So, she stuck around longer than I planned, and was more popular than I expected, but hey, what are you gonna do?
Thanks for being a sport, Angie. Stand up a wave, please!
Oh, and a slew of new T-shirt designs went up in the Multiplex Store last week, so check 'em out!
Multiplex News & Updates
Bonus comics, drawings, and
other awesome stuff
Saturday, May 27, 2017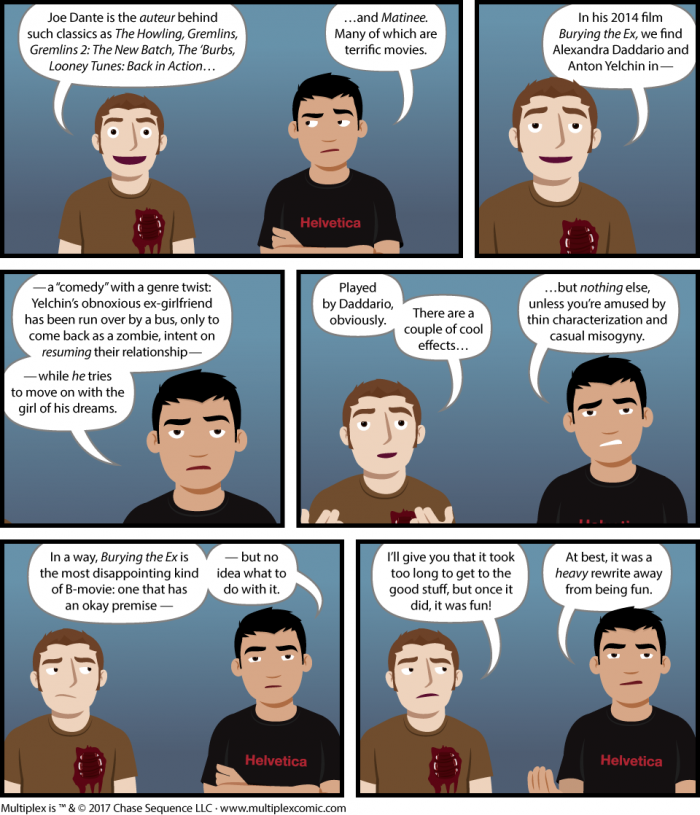 Hello, Multiplex readers!
A quick update on what's going on with everything Multiplex-related:
The storyboards for the Multiplex 10 animated short are DONE. Rough, but done. Pre-production continues for the next few weeks with the construction/editing/etc. of the first rough animatic and design/illustration work.
Although the Kickstarter project has ended, you can still support the project (or my comics work) by becoming a Patreon patron or making a one-time PayPal donation.
Multiplex: The Revenge (Book Three) is being shipped out to Kickstarter backers and will be available for purchase to everyone else on June 14th — as will the Multiplex mini-posters set.
I will be at Wizard World Philadelphia (Friday–Sunday only) with copies of Book Three, so if you're in that neck of the woods, you can get it a little early. :)
Multiplex Movie Reviews like this one, bonus comics from Multiplex: The Best Laid Plans (Book Four), and other stuff are being exclusively posted to Patreon a couple of times a week. Er, except for this one, obviously.
Other Recent Posts