Notes from the Manager
Welcome to the Multiplex 10 Cinemas!
Multiplex is an online comic about a low-brow movie buff Kurt and a high-brow film snob Jason, who wage a never-ending battle against the terrible movies and even worse customers infesting their movie theater.
You can also download high-resolution eBooks with partially reformatted/revised artwork as well as a bunch of bonus comics — like Multiplex: The Extended Edition. The Chapter 1 eBook is FREE and later chapters are available for $1.99 each.
OR you can order a copy of Multiplex: Enjoy Your Show (Book 1), which contains the first 102 strips from the archives, all of the bonus comics from the Chapter eBooks, an exclusive 12-page Prequel story set on opening night of Star Wars: Episode III — Revenge of the Sith, and a slew of other bonus material.
Thank you for reading,
Gordon McAlpin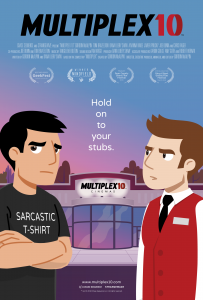 Multiplex 10 is here!
Although Multiplex 10 has ended, an animated prequel/reboot called Multiplex 10 was funded through Kickstarter in 2017 and is NOW AVAILABLE for rent or purchase on Vimeo On Demand, Amazon Video, and elsewhere! And an all-new, irregularly-updated Multiplex 10 web series (set after the short film) recently launched on YouTube! Learn more about the web series on the official Multiplex 10 website!
Stay up to date on all things Multiplex, Multiplex 10 and me (a.k.a. Gordon McAlpin) by subscribing to my newsletter!