Notes from the Manager
Related Strips: #416: Past, Present and Future?, Part One; #417: Past, Present and Future?, Part Two; #418: Past, Present and Future?, Part Three; #557: The Third Miracle, Part Three; #561: A Night in the Patio, Part One; #562: A Night in the Patio, Part Two; #563: A Night in the Patio, Part Three
The first panel here took me twelve hours to draw, so there's a lot more detail in it than you can see here online. Vote for Multiplex at TopWebComics to see it twice as big!
I mentioned on Monday that I'd be telling you a lot more about the Patio today — and I will, but it won't be here. Head on over to Chicago's own Gapers Block to read "The Return of the Patio Theater," an interview I conducted with the Patio's new manager (and son of the owner), Demetri Kouvalis — plus a brief history of the Patio and a photo set with photos by yours truly and my friend Charlene Epple. (Some of the photos were used as reference in this arc, so you might recognize them.)
For some behind-the-scenes chatter about this story arc and Multiplex in general, have a listen to TGT Webcomics Podcast Episode #151 wherein Kurt Sasso and I chat it up for an hour and a half about movies, the Patio Theatre, how I draw the strip, and even a couple of teases about where things are heading in the near future.
See you Friday with the last of my little three-strips-a-week bout of masochism.
SHIRTS ON SALE! I have a clearance sale on all of the T-shirts in my store, because… I'm trying to clear out of my stock. (That's what clearance sales are usually for, right?) Some of the designs are as low as $4.99, so, y'know. Check 'em out soon!
ORIGINAL ART FOR SALE! If you loved the Shortpacked! guest strip I did a while back, you can bid on the original art — plus a color print of the finished strip — over on eBay!
Multiplex News & Updates
Bonus comics, drawings, and
other awesome stuff
Saturday, May 27, 2017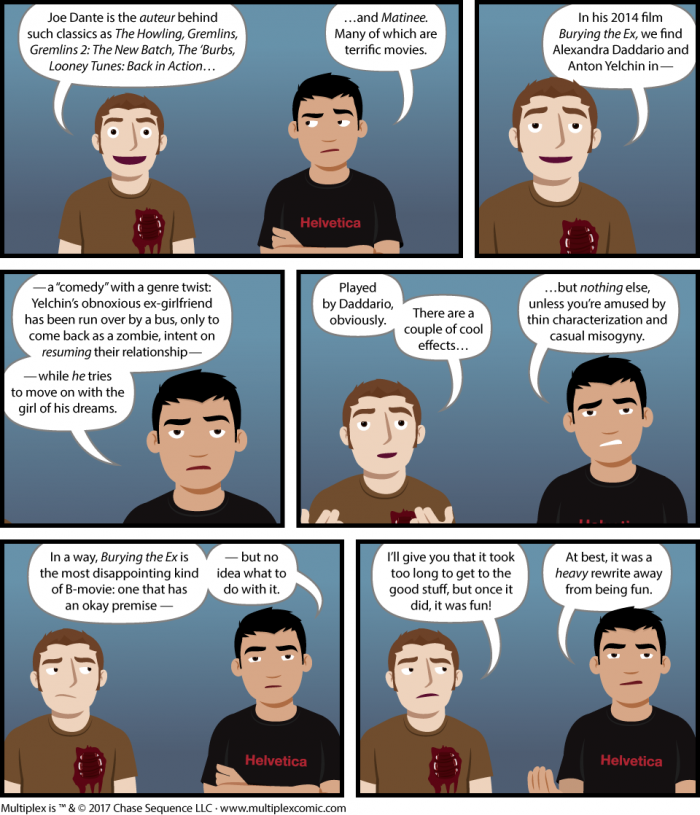 Hello, Multiplex readers!
A quick update on what's going on with everything Multiplex-related:
The storyboards for the Multiplex 10 animated short are DONE. Rough, but done. Pre-production continues for the next few weeks with the construction/editing/etc. of the first rough animatic and design/illustration work.
Although the Kickstarter project has ended, you can still support the project (or my comics work) by becoming a Patreon patron or making a one-time PayPal donation.
Multiplex: The Revenge (Book Three) is being shipped out to Kickstarter backers and will be available for purchase to everyone else on June 14th — as will the Multiplex mini-posters set.
I will be at Wizard World Philadelphia (Friday–Sunday only) with copies of Book Three, so if you're in that neck of the woods, you can get it a little early. :)
Multiplex Movie Reviews like this one, bonus comics from Multiplex: The Best Laid Plans (Book Four), and other stuff are being exclusively posted to Patreon a couple of times a week. Er, except for this one, obviously.
Other Recent Posts