Notes from the Manager
Related Strips: #555: The Third Miracle, Part One; #556: The Third Miracle, Part Two; #557: The Third Miracle, Part Three
And so ends the three-week three-strips-a-week stint. I hope you enjoyed the extra updates — and thank you to everyone who has bought stuff and/or shared the comic with their friends lately! You rock.
The first panel from #564 is still the vote incentive at TopWebComics, in case you'd like to see it double-sized.
This strip marks the first strip in Chapter 25 — or the fifth chapter in Book 5 (there are always five chapters per book), meaning a lot of the themes from Book 5 are going to start wrapping up in the near future. I hope you've been enjoying the last year!
Book 6 should be a lot of fun. It should start around #601, if everything goes according to plan… Obviously, some of the overriding themes of the strip will continue (such as Jason's growing interest in old movie theaters, and the gang figuring out what they want to do with the rest of their lives), but there will be a major storyline throughout Book 6 that I think you'll all enjoy. Of course, that's not for a few more months, so I don't want to get you all excited yet…
SHIRTS ON SALE! I have a clearance sale on all of the T-shirts in my store, because… I'm trying to clear out of my stock. (That's what clearance sales are usually for, right?) I'm down the my last three sold out of Copyright shirts, and Popcorn and Breakfast Club are dirt cheap.
ORIGINAL ART FOR SALE! If you loved the Shortpacked! guest strip (guest starring Jason!) I did a while back, you can bid on the original art — plus a color print of the finished strip — over on eBay!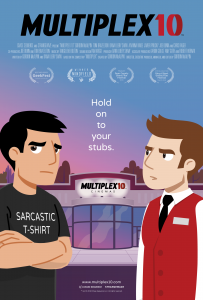 Multiplex 10 is here!
Although Multiplex 10 has ended, an animated prequel/reboot called Multiplex 10 was funded through Kickstarter in 2017 and is NOW AVAILABLE for rent or purchase on Vimeo On Demand, Amazon Video, and elsewhere! And an all-new, irregularly-updated Multiplex 10 web series (set after the short film) recently launched on YouTube! Learn more about the web series on the official Multiplex 10 website!
Stay up to date on all things Multiplex, Multiplex 10 and me (a.k.a. Gordon McAlpin) by subscribing to my newsletter!