Notes from the Manager
Related Strips: #376: Hiding in Plain Sight; #377: History Lesson
This is the first of two about/at the Patio Theatre.
The Patio Theatre is on the west side of Chicago, in Portage Park. It was built in 1927, seats 1500, and was only recently closed in 2001. Like many theaters in the '20s and '30s, its auditorium sports an "atmospheric" canopy, with twinkling stars and moving (projected?) clouds.
The Patio was featured as the "star" in a recent "Save These Theaters" feature at Forgotten Chicago (a truly fantastic resource for Chicagoans). Devi and Jason will undoubtedly visit the other two someday (but probably not too soon).
The nearby Portage Park Theatre was recently brought back to like (as the Portage Theater — and is the new home of the Silent Film Society. (Alas, these panels take too long for me to visit both this week. But someday, perhaps.)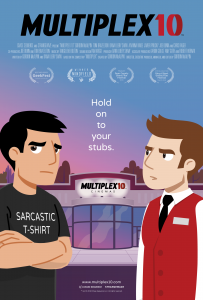 Multiplex 10 is here!
Although Multiplex 10 has ended, an animated prequel/reboot called Multiplex 10 was funded through Kickstarter in 2017 and is NOW AVAILABLE for rent or purchase on Vimeo On Demand, Amazon Video, and elsewhere! And an all-new, irregularly-updated Multiplex 10 web series (set after the short film) recently launched on YouTube! Learn more about the web series on the official Multiplex 10 website!
Stay up to date on all things Multiplex, Multiplex 10 and me (a.k.a. Gordon McAlpin) by subscribing to my newsletter!