Notes from the Manager
Related Strips: #58: Familiarity Breeds Contentment
At least one of the movies Jason names could be seen as a spoiler, so… spoiler warning, obviously. Don't come crying to me if you click on that link and didn't want to know.
Anyway, this seems to be the consensus about Oblivion: it's pretty, it's got good action, and so incredibly derivative that you'll get a little bored. Aside from the movies Jason named (at least one of which is pretty apparent from the trailer, but whatever), there are supposedly nods to Planet of the Apes, 2001: A Space Odyssey, Star Wars, Mad Max, La Jetée, Minority Report, The Omega Man and Blade Runner.
EDIT: A recent LA Times article cites a bunch of reviews talking about Oblivion's derivative nature. Give it a look-see if you're curious.
Multiplex News & Updates
Bonus comics, drawings, and
other awesome stuff
Thursday, June 15, 2017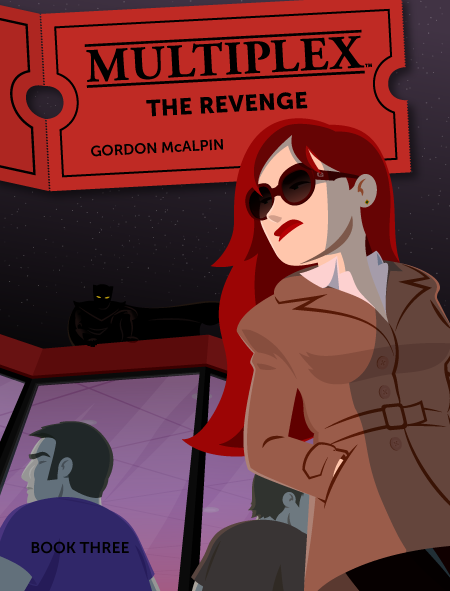 Multiplex: The Revenge (Book Three) is now available in the Multiplex Store! (Only regular/unsigned editions are available at this time; I'll add artist's editions once all of the Kickstarter rewards have been fulfilled.)
Multiplex: The Revenge collects chapters 11–15 of the series (strips #217–338, which ran from March 2008 to March 2009), plus over 30 bonus comics — including an all-new stories sets on opening night of The Dark Knight and Zack Snyder's Watchmen! If you miss Multiplex and would like to see more with these characters, the book collections are for you.
Head on over to the Multiplex Store and check it out today!
Other Recent Posts