Notes from the Manager
Related Strips: #127: Brothers in Arms; #370: Exactly Like That; #604: Transform and Roll Out; #681: A New Hope; #682: Rough Draft; #683: Bro Code
The title is a reference to "Just" by Radiohead, naturally.
And if watch Community, you already know this, but if you don't, the "cool. cool cool cool" line is a nod to one of the best sitcoms going right now.
Aaand you can read a little more about the Teenage Mutant Alien Ninja Turtles "controversy" over at Coming Soon. It's worth noting that Turtles co-creator Kevin Eastman is working on the film along with director Jonathan Liebesman (Battle: Los Angeles), and that there's really no telling how much Michael Bay is even involved. (The Transformers auteur is producing the Turtles film.)
The film is currently just titled Ninja Turtles, incidentally. According to Bay, that was Paramount's call.
One final reminder: I will be at Emerald City Comicon this weekend. In fact, by the time you read this, I'll probably be on my way there. So if you're headed there as well, be sure to stop by Booth 307, where I'll be set up with Angela Melick of Wasted Talent and my good friend Tom Brazelton of Theater Hopper, a stone's throw away from the rest of Blank Label Comics.
See you Monday!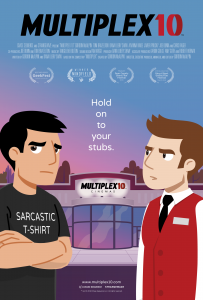 Multiplex 10 is here!
Although Multiplex 10 has ended, an animated prequel/reboot called Multiplex 10 was funded through Kickstarter in 2017 and is NOW AVAILABLE for rent or purchase on Vimeo On Demand, Amazon Video, and elsewhere! And an all-new, irregularly-updated Multiplex 10 web series (set after the short film) recently launched on YouTube! Learn more about the web series on the official Multiplex 10 website!
Stay up to date on all things Multiplex, Multiplex 10 and me (a.k.a. Gordon McAlpin) by subscribing to my newsletter!