Notes from the Manager
Related Strips: #448: Up, Up and Away; #452: Crazies for You, Part Four; #606: Theatrics; #681: A New Hope
By request, Kurt's T-shirt from #681 has been added to the Multiplex Store.
Becky's post-breakup-depression (for those of you who don't check the Related Strips when you don't understand everything in a comic) is referring to Jay, which happened shortly before she sort of uncharacteristically helped Kurt with one of his pranks near the end of Book 4.
Becky was in booth when the gang screened Night of the Living Dead (in #606), but you see her in panel 8, and you can guess that she caught most of it.
One brief Kickstarter-related note: in just three days, you guys have pledged over $6000. Holy cow. That's 40% of the goal to get Book 2 printed in three days. You guys rock.
See you Monday!
By the way, I'll be at Emerald City Comicon, like it says at the left. So you Seattleites should swing by Booth 307, where I'll be set up with Angela Melick of Wasted Talent and my good friend Tom Brazelton of Theater Hopper, a stone's throw away from the rest of Blank Label Comics. (I'd already signed up for the other table before I joined Blank Label.)
I'll have copies of Multiplex: Enjoy Your Show, original art from the zombie arc, and a few other things (but no T-shirts, since I only do print-on-demand shirts now). And I'll be doing sketches, as always. Because I like drawering.
Multiplex News & Updates
Bonus comics, drawings, and
other awesome stuff
Saturday, May 27, 2017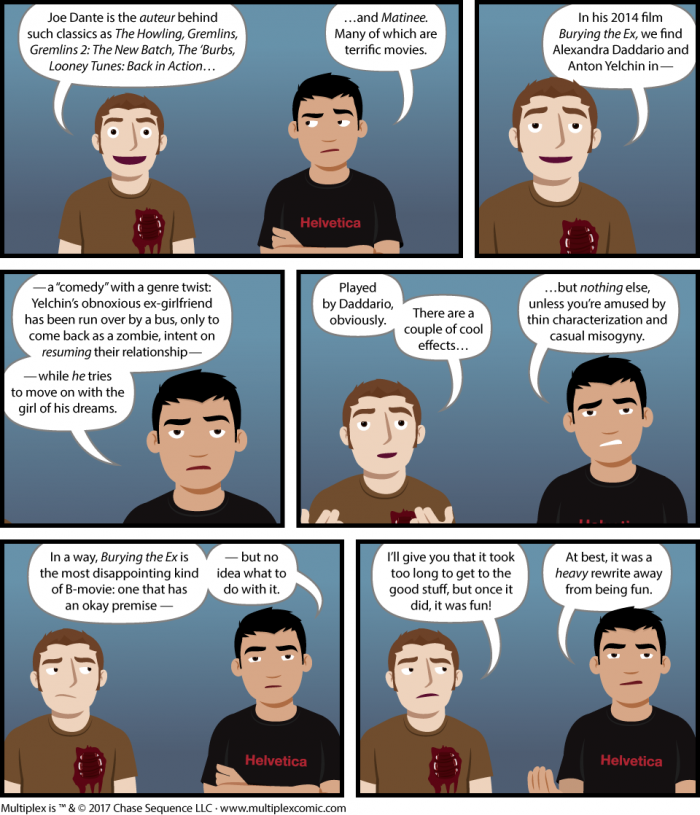 Hello, Multiplex readers!
A quick update on what's going on with everything Multiplex-related:
The storyboards for the Multiplex 10 animated short are DONE. Rough, but done. Pre-production continues for the next few weeks with the construction/editing/etc. of the first rough animatic and design/illustration work.
Although the Kickstarter project has ended, you can still support the project (or my comics work) by becoming a Patreon patron or making a one-time PayPal donation.
Multiplex: The Revenge (Book Three) is being shipped out to Kickstarter backers and will be available for purchase to everyone else on June 14th — as will the Multiplex mini-posters set.
I will be at Wizard World Philadelphia (Friday–Sunday only) with copies of Book Three, so if you're in that neck of the woods, you can get it a little early. :)
Multiplex Movie Reviews like this one, bonus comics from Multiplex: The Best Laid Plans (Book Four), and other stuff are being exclusively posted to Patreon a couple of times a week. Er, except for this one, obviously.
Other Recent Posts