Notes from the Manager
Related Strips: #565: What Price Victory?
In case you didn't watch the Oscars, yes, that's how this played out. How to Train Your Dragon lost to Toy Story 3 in Best Animated Feature, and John Powell's score for Dragon lost to Trent Reznor and Atticus Ross's The Social Network score. At the very least, Dragon lost to two very solid nominees.
To the non-winning nominees in the Best Original Screenplay, Best Director or Best Picture categories, I'm afraid I can't say the same. The King's Speech — which I enjoyed — had a perfectly contrived Oscarbait script, solid but unremarkable direction, and was a terrific film overall — but not one for the ages, like The Social Network or even the dark horse nominee, Winter's Bone. It was this year's Shakespeare in Love… and, apparently the Academy agreed. Alas.
If you watched the show, who were you rooting for that either got the Oscar or didn't?
SHIRTS ON SALE! I have a clearance sale on all of the T-shirts in my store, because… I'm trying to clear out of my stock. (That's what clearance sales are usually for, right?) I'm down the my last three sold out of Copyright shirts, and Popcorn and Breakfast Club are dirt cheap.
ORIGINAL ART FOR SALE! If you loved the Shortpacked! guest strip (guest starring Jason!) I did a while back, you can bid on the original art — plus a color print of the finished strip — over on eBay! The bidding on this item ends tomorrow (Tuesday)! Aaaand sold!
Multiplex News & Updates
Bonus comics, drawings, and
other awesome stuff
Thursday, June 15, 2017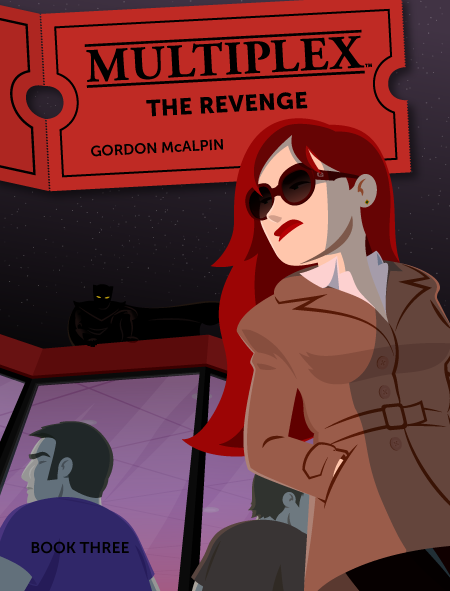 Multiplex: The Revenge (Book Three) is now available in the Multiplex Store! (Only regular/unsigned editions are available at this time; I'll add artist's editions once all of the Kickstarter rewards have been fulfilled.)
Multiplex: The Revenge collects chapters 11–15 of the series (strips #217–338, which ran from March 2008 to March 2009), plus over 30 bonus comics — including an all-new stories sets on opening night of The Dark Knight and Zack Snyder's Watchmen! If you miss Multiplex and would like to see more with these characters, the book collections are for you.
Head on over to the Multiplex Store and check it out today!
Other Recent Posts