Notes from the Manager
Related Strips: #546: Natural Born Blogger; #547: Shallow Focus
Most of you have probably heard of The Illusionist already, but it was nominated — along with How to Train Your Dragon and Toy Story 3 — for a Best Animated Feature Academy Award. I haven't seen it yet (the Blogger's opinions here are based on the "universal acclaim" it has been receiving from other critics).
The film is by Sylvain Chomet (The Triplets of Belleville), based on a script by Jacques Tati, a French filmmaker who had a very singular approach to comedy: it's gentle physical comedy (not exactly "slapstick"), with a heavy dose of social commentary. Many of his films are available on Criterion Collection discs (and via Netflix Streaming), including Playtime, which is widely considered to be his masterpiece. Personally, I would not recommend starting there with his movies; it seemed to me like all of Tati's ideas distilled into one movie.
And yes, for those of you in the Chicago area, it is actually playing at the Music Box Theatre, one of my favorite moviehouses in the city, and one that is long overdue for Jason and Devi to visit… I will definitely be catching it there as soon as possible.
UPDATE: I was interviewed by MTV Geek not that long ago, and it looks like they've posted it. Checkitout!
Multiplex News & Updates
Bonus comics, drawings, and
other awesome stuff
Thursday, June 15, 2017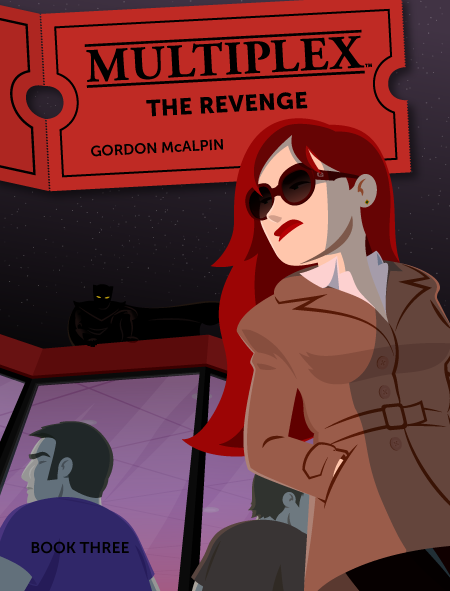 Multiplex: The Revenge (Book Three) is now available in the Multiplex Store! (Only regular/unsigned editions are available at this time; I'll add artist's editions once all of the Kickstarter rewards have been fulfilled.)
Multiplex: The Revenge collects chapters 11–15 of the series (strips #217–338, which ran from March 2008 to March 2009), plus over 30 bonus comics — including an all-new stories sets on opening night of The Dark Knight and Zack Snyder's Watchmen! If you miss Multiplex and would like to see more with these characters, the book collections are for you.
Head on over to the Multiplex Store and check it out today!
Other Recent Posts