Notes from the Manager
Related Strips: #546: Natural Born Blogger; #547: Shallow Focus
Most of you have probably heard of The Illusionist already, but it was nominated — along with How to Train Your Dragon and Toy Story 3 — for a Best Animated Feature Academy Award. I haven't seen it yet (the Blogger's opinions here are based on the "universal acclaim" it has been receiving from other critics).
The film is by Sylvain Chomet (The Triplets of Belleville), based on a script by Jacques Tati, a French filmmaker who had a very singular approach to comedy: it's gentle physical comedy (not exactly "slapstick"), with a heavy dose of social commentary. Many of his films are available on Criterion Collection discs (and via Netflix Streaming), including Playtime, which is widely considered to be his masterpiece. Personally, I would not recommend starting there with his movies; it seemed to me like all of Tati's ideas distilled into one movie.
And yes, for those of you in the Chicago area, it is actually playing at the Music Box Theatre, one of my favorite moviehouses in the city, and one that is long overdue for Jason and Devi to visit… I will definitely be catching it there as soon as possible.
UPDATE: I was interviewed by MTV Geek not that long ago, and it looks like they've posted it. Checkitout!
Support Gordon McAlpin on Patreon!
Although Multiplex has ended, thanks to readers like you on Patreon, the Multiplex 10 will stay open for business! I'll be posting bonus comics from future print collections, Multiplex Movie Review strips, updates on the upcoming Multiplex 10 animated short, and, of course, other non-Multiplex stuff.
In addition to the warm, soothing feeling of being a patron of the arts, Patreon supporters get access to free Multiplex eBooks, sneak previews of upcoming comics and other behind the scenes peeks, sketch giveaways, and more!
Deleted Scenes Blog
Bonus comics, drawings,
movie trailers and more
Sunday, April 23, 2017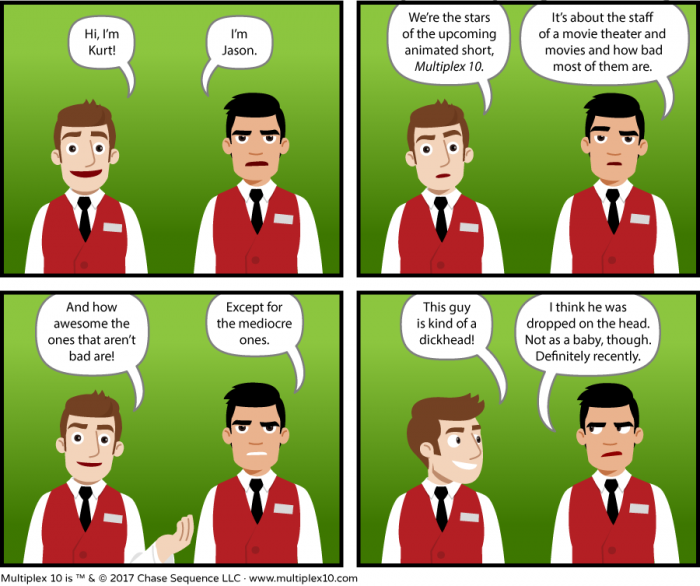 Hello! The Multiplex 10 Kickstarter project ends in just over 14 days. As of this writing, we are a little north of $12,000, so just over 80% of our base goal. Judging from my last two Kickstarters, we're doing very well. The final week should pick up considerably over this past week.
BUT don't forget that we still have a milestone goal of Jason reviewing every Harry Potter movie if we make that $15,000 baseline goal on/before Wednesday, April 26th, though! (Plus Fantastic Beasts if we make it on/before Monday, April 24th. But that seems kind of unlikely at this point.) I thought that was a fun premise… but it's up to the Gods of Kickstarter now.
I also officially added our first (and, at this point, only) STRETCH GOAL. At $20,000, we'll be able to do a few extra things:
Smoother, 4K animation
5.1 Surround Sound mix (courtesy sound designer Ian Vargo)
AND… a theatrical premiere at the Somerville Theatre here in Somerville, MA. (All backers at the Special Thanks level and up will get free admission… although, of course, transportation is not provided.)
Thanks so much for all your support. I'm exciting at how the Kickstarter project is coming together, and I can't wait to get started on the animated short. (Full time, I mean. I'm already working on it!)
Pledge your support today! If you haven't already!
Other Recent Posts