Notes from the Manager
I do want to get back to the film series sometime soon, but I'm moving in a week, so doing hand-drawn strips is not an option at the moment, I'm afraid. Instead, we actually get a strip with Kurt and Jason talking about a current movie!
There does seem to be a very polarized reaction to Guillermo del Toro's latest (a.k.a. Pacific Rim), with most of the people I know on Twitter loving it, but a handful of confusing (to me), strong negative reactions around the internet. DO NOT post Pacific Rim spoilers below. If you want to talk about the movie in more detail, I've given a little bit of my opinion about it (I wouldn't say it was a review) and set up a "Spoiler Zone" post over at Deleted Scenes. Spoilers are okay in the Spoiler Zone comments section, though, so you have been warned.
See you… Thuriday. :P to you, Bunk.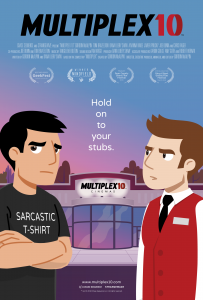 Multiplex 10 is here!
Although Multiplex 10 has ended, an animated prequel/reboot called Multiplex 10 was funded through Kickstarter in 2017 and is NOW AVAILABLE for rent or purchase on Vimeo On Demand, Amazon Video, and elsewhere! And an all-new, irregularly-updated Multiplex 10 web series (set after the short film) recently launched on YouTube! Learn more about the web series on the official Multiplex 10 website!
Stay up to date on all things Multiplex, Multiplex 10 and me (a.k.a. Gordon McAlpin) by subscribing to my newsletter!