Notes from the Manager
Fortunately for Sunny, she's a pretty white girl.
One related non-strip would be Sunny's bio, I guess, since that's one of the few places she's mentioned studying to go into social work. I realize I'm also about two months behind in introducing the new assistant manager (working alongside Neil). It'll happen!
Sunny working nights and weekends more means she should be around Jason and Kurt a little more often in the near future, too. "Day shifts" are where all the Multiplex characters disappear to when I haven't used them in a while.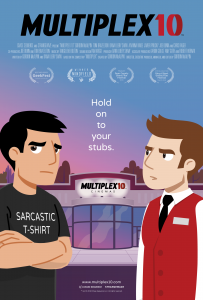 Multiplex 10 is here!
Although Multiplex 10 has ended, an animated prequel/reboot called Multiplex 10 was funded through Kickstarter in 2017 and is NOW AVAILABLE for rent or purchase on Vimeo On Demand, Amazon Video, and elsewhere! And an all-new, irregularly-updated Multiplex 10 web series (set after the short film) recently launched on YouTube! Learn more about the web series on the official Multiplex 10 website!
Stay up to date on all things Multiplex, Multiplex 10 and me (a.k.a. Gordon McAlpin) by subscribing to my newsletter!