Notes from the Manager
Related Strips: #603: Just Desserts, Part Two
So, finally, here's the new assistant manager, Sarah. At the end of Book 5, Norma mentioned that they needed to wait for the school year to be over for her to free up, and then it took me two more months to actually introduce her, so now we're seeing her as if she's been at the theater for a little while.
We're also seeing a few old faces for the first time in a long time here, some of whom will be a little more prominent in Book 6 than… in Book 5, anyway.
And before anybody asks, Sarah is supposed to be 30-ish. And Jason will not be dating her.
Oh, and yes, I know the grammatically correct title would be "Every Day All Day," but it's a Naughty By Nature reference, so…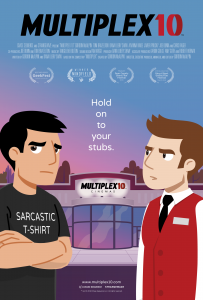 Multiplex 10 is here!
Although Multiplex 10 has ended, an animated prequel/reboot called Multiplex 10 was funded through Kickstarter in 2017 and is NOW AVAILABLE for rent or purchase on Vimeo On Demand, Amazon Video, and elsewhere! And an all-new, irregularly-updated Multiplex 10 web series (set after the short film) recently launched on YouTube! Learn more about the web series on the official Multiplex 10 website!
Stay up to date on all things Multiplex, Multiplex 10 and me (a.k.a. Gordon McAlpin) by subscribing to my newsletter!