Notes from the Manager
This strip came out a little weirder than I had intended, even…
Here's a trailer for The Help, which stars Viola Davis, Bryce Dallas Howard, Octavia Spencer, and Emma Stone:
Here's the synopsis for the fictional movie (adapted from a novel):
Set in Mississippi during the 1960s, a southern society girl returns from college determined to become a writer, but turns her friends' lives -- and a small Mississippi town -- upside down when she decides to interview the black women who have spent their lives taking care of prominent southern families. Aibileen, Skeeter's best friend's housekeeper, is the first to open up -- to the dismay of her friends in the tight-knit black community. Despite Skeeter's life-long friendships hanging in the balance, she and Aibileen continue their collaboration and soon more women come forward to tell their stories -- and as it turns out, they have a lot to say.
UPDATE (8/31): For a little more context about the controversy this strip brings up, read this New York Times editorial on the film.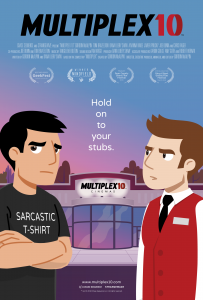 Multiplex 10 is here!
Although Multiplex 10 has ended, an animated prequel/reboot called Multiplex 10 was funded through Kickstarter in 2017 and is NOW AVAILABLE for rent or purchase on Vimeo On Demand, Amazon Video, and elsewhere! And an all-new, irregularly-updated Multiplex 10 web series (set after the short film) recently launched on YouTube! Learn more about the web series on the official Multiplex 10 website!
Stay up to date on all things Multiplex, Multiplex 10 and me (a.k.a. Gordon McAlpin) by subscribing to my newsletter!