Notes from the Manager
Related Strips: #590: Freddy vs. Jason
I want to do three updates this week, since I've got the rest of Book 5 mapped out, and it's pretty time-sensitive — but I'm not sure how things are going to go this week with my current freelance gig, and so I'm not sure if I'll have time… To be perfectly frank, I'm not sure I'll be able to get Thursday's strip on time, if I'm working as many hours as I've been over the last few days.
Keep your eyes peeled, I guess? Or, y'know, follow @multiplex10 (or @gmcalpin) on Twitter, "Like" Multiplex on Facebook, or subscribe to the Multiplex RSS feed, or one of the many, many ways to keep up to date with websites in the 21st century.
There is a new T-shirt design available for PRE-ORDER in the Multiplex Store: Rhyme Bandits, which is (obviously) a play on the Time Bandits logo. This was on the short Whitey wore in the last couple of strips, except that I never actually showed the logo. (Someone's head was in the way in #590, and his back was turned in #589.) It just kind of worked out that way.
Anyway, I liked the idea and posted it on Facebook, and a few people suggested I actually make it a shirt, so… if 15 of you pre-order the design, I will print these up on royal blue shirts. If not enough people order, I'll refund everybody's money and be sad. (As always, I highly recommend anyone who wants Ladies shirts, or Men's 2XL or 3XL shirts to pre-order, because I simply don't sell enough of those designs to merit keeping them on-hand. I am, sorry to say, not Topatoco.)
So, since Pirates of the Caribbean: On Stranger Tides relates to this week's comics, I should ask — did any of you see it? (I was either sleeping, working on the strip, or stuck in an office all weekend, so… I didn't get to.) Was it a fun throwback to the original film, or a tedious, convoluted attempt to capture lightning in a bottle yet another time?
SUPPORT GORDON McALPIN ON PATREON!
Although Multiplex has ended, thanks to readers like you on Patreon, the Multiplex 10 will stay open for business! I'll be posting bonus comics from future print collections, Multiplex Movie Review strips, updates on the upcoming Multiplex 10 animated short, and, of course, other non-Multiplex stuff.
In addition to the warm, soothing feeling of being a patron of the arts, Patreon supporters get access to free Multiplex eBooks, sneak previews of upcoming comics and other behind the scenes peeks, sketch giveaways, and more!
Multiplex News & Updates
Bonus comics, drawings, and
other awesome stuff
Saturday, April 29, 2017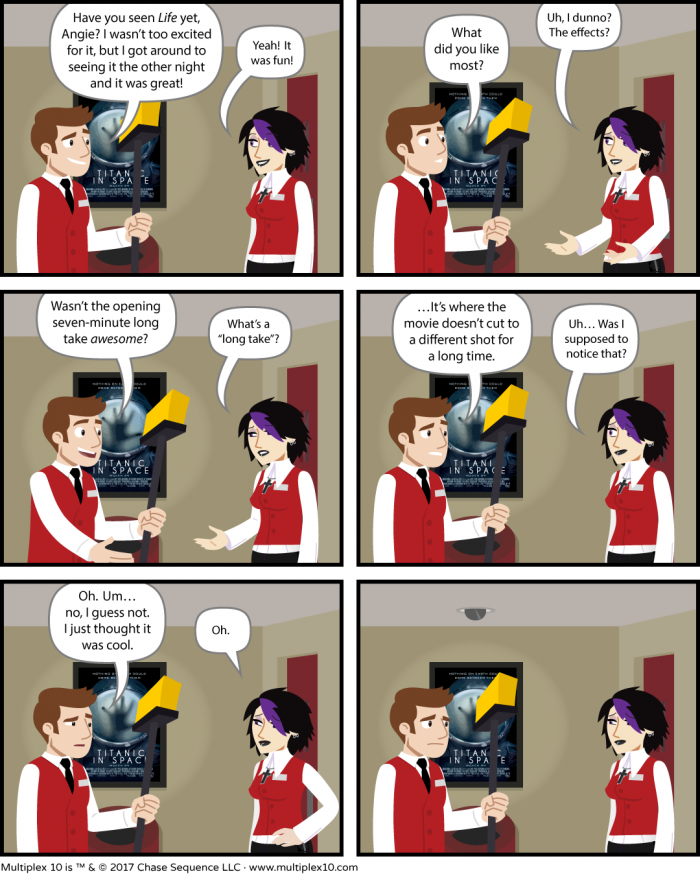 Angie, like Franklin, is another significant character from Multiplex who only gets a brief cameo in the pilot episode. So here she is in a Multiplex 10 comic strip.
At nearly $13,250 (as I write this), we're allllllmost at 90% funding with EIGHT DAYS to go. We need your support to make this pilot happen — and to help distribute it so that we can make more than just one episode! Check out the Multiplex 10 Kickstarter project page today! (Please.)
Also, in case you missed it, there were a couple of new… uh, I'm not sure how to refer to them. "Promo comics," I guess? The Multiplex 10 versions of Melissa & Becky and Franklin introduce themselves and talk about the animated short and one of the Kickstarter milestones, like the Kurt & Jason one I posted here a while ago. I posted those around the social medias and the separate, Multiplex 10-specific site, which some of you may not know about.
Other Recent Posts