Notes from the Manager
Related Strips: #108: Red Hot Christmas; #585: Where Are Your Priorities?
If you'll recall, Jason, Kurt, and the gang saw the 2006 remake of Black Christmas back in #108 (hence it being a related strip). While I never actually saw the remake, the original is pretty creepy, and often touted as one of the best slasher movies ever made… which really doesn't say a whole hell of a lot about the (sub)genre. Mind you, I enjoyed it… but it's not a smart script, by any stretch of the imagination. The ending, in particular, is so ludicrous that it ruins just about all of its intended creepiness for me.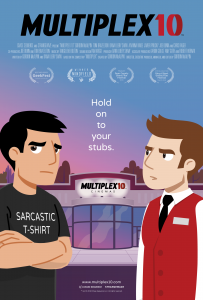 Multiplex 10 is here!
Although Multiplex 10 has ended, an animated prequel/reboot called Multiplex 10 was funded through Kickstarter in 2017 and is NOW AVAILABLE for rent or purchase on Vimeo On Demand, Amazon Video, and elsewhere! And an all-new, irregularly-updated Multiplex 10 web series (set after the short film) recently launched on YouTube! Learn more about the web series on the official Multiplex 10 website!
Stay up to date on all things Multiplex, Multiplex 10 and me (a.k.a. Gordon McAlpin) by subscribing to my newsletter!