Notes from the Manager
Related Strips: #565: What Price Victory?; #566: Do the Right Thing, Part One
I have a feeling a lot of you aren't going to get the Talk to Her reference. Talk to Her is a 2002 film by the Spanish writer-director Pedro Almodóvar, and it's a sublime film. Kiiinda disturbing in spots, but absolutely gorgeous. (Since we're still technically on Academy Awards night, I suppose it's relevant to mention the film earned Almodóvar a Best Original Screenplay Oscar, as well as a Best Director nomination.)
Hiccup is specifically referring to something in a black and white silent film within the film that you get a few glimpses of in the trailer. Even if you haven't seen the film, you might be able to figure it out from the trailer… heh
SEATTLEITES! I will be in your city this weekend for the 2011 Emerald City Comicon — as it says right over there in the left sidebar at the site under "Upcoming Events." Handy, huh? I'll be at table G-14 in Artist's Alley, as it says, so stop by and see me! I'll have books and a verrrry small handful of Michael Bay T-shirts, but I'll also be doing sketches and shaking hands and all the usual convention things.
Due to the con and some runnin' late, I'm afraid there will be an awesome guest strip up on Monday — I hope — but I'll be putting up my regular two updates on Wednesday and Friday instead.
SHIRTS ON SALE! I have a clearance sale on all of the T-shirts in my store at the moment. Copyright shirts have sold out (thank you!!), but the Workplace Romance, Popcorn and Breakfast Club are all $4.99 and even the über-popular Michael Bay is the Devil shirt is only $12.99.
There's a new T-shirt design up in the story — the Ozu's the Boss? T-shirt worn by Jason in Multiplex #555 is now available for PRE-ORDER at the bargain price of $14.99.
This is a much simpler design than the Michael Bay shirt, so we only need 12 orders by Thursday, March 10th, before I print them up (probably a 1–2 week turnaround) and ship 'em out. If you want 'em, order 'em — especially if you want a Ladies size or Men's 2XL or 3XL (and if you need a size not listed, just shoot me an e-mail and I can set that up for you), because I will not print many extras to keep on-hand. If we don't get the minimum 12 orders, all orders will be canceled and all payments refunded, 'cause the shirts won't get printed!

Multiplex News & Updates
Bonus comics, drawings, and
other awesome stuff
Thursday, June 15, 2017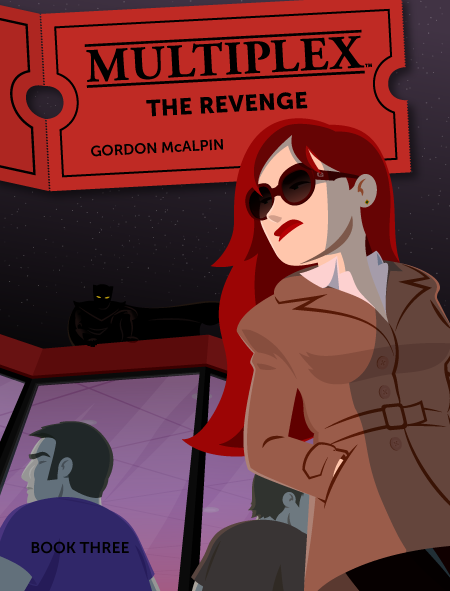 Multiplex: The Revenge (Book Three) is now available in the Multiplex Store! (Only regular/unsigned editions are available at this time; I'll add artist's editions once all of the Kickstarter rewards have been fulfilled.)
Multiplex: The Revenge collects chapters 11–15 of the series (strips #217–338, which ran from March 2008 to March 2009), plus over 30 bonus comics — including an all-new stories sets on opening night of The Dark Knight and Zack Snyder's Watchmen! If you miss Multiplex and would like to see more with these characters, the book collections are for you.
Head on over to the Multiplex Store and check it out today!
Other Recent Posts