Notes from the Manager
Related Strips: #294: Identity Crisis; #530: Outie 5000
First of three short-ish ones this week, if all things go according to plan. Come back WEDNESDAY. Or, y'know, don't and just come back on Thursday and Friday. Either way.
Yes, I know I'm recycling a punch line here (from #294, hence it being one of the Related Strips). But there's a reason. It's subtle, maybe. But there is a reason… which will be revealed soonish.
Let's have some fun. If you want to leave a comment for today's strip, go to Yahoo! Babel Fish and translate it into another language, then translate it BACK into English, and post that instead. (Sometimes to make it even more fun, you can phrase your initial sentence[s] awkwardly, just to throw Babel Fish a curveball.)
As always, thank you for the multiplexing of reading.
(Aw, that's wasn't very good.)
Multiplex News & Updates
Bonus comics, drawings, and
other awesome stuff
Saturday, May 27, 2017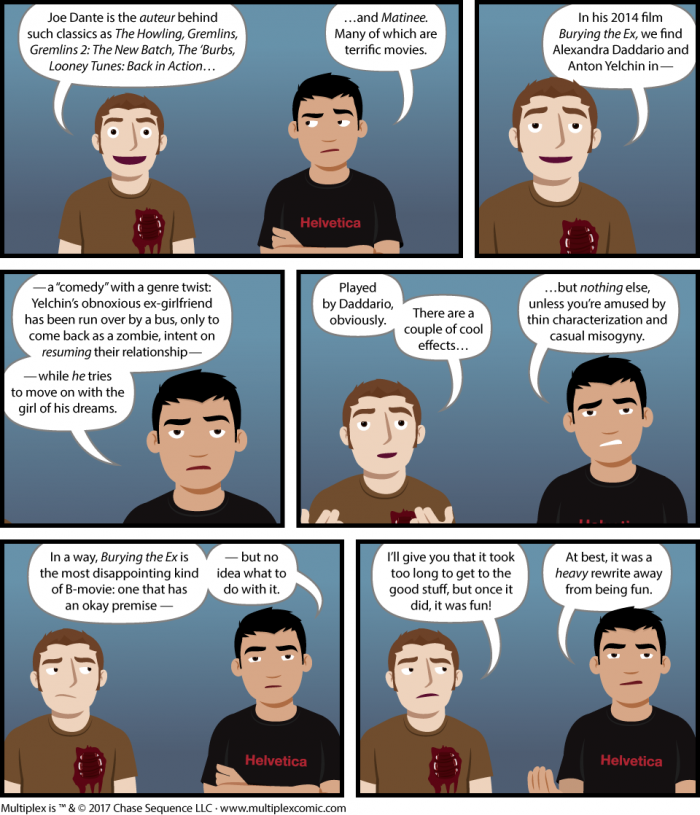 Hello, Multiplex readers!
A quick update on what's going on with everything Multiplex-related:
The storyboards for the Multiplex 10 animated short are DONE. Rough, but done. Pre-production continues for the next few weeks with the construction/editing/etc. of the first rough animatic and design/illustration work.
Although the Kickstarter project has ended, you can still support the project (or my comics work) by becoming a Patreon patron or making a one-time PayPal donation.
Multiplex: The Revenge (Book Three) is being shipped out to Kickstarter backers and will be available for purchase to everyone else on June 14th — as will the Multiplex mini-posters set.
I will be at Wizard World Philadelphia (Friday–Sunday only) with copies of Book Three, so if you're in that neck of the woods, you can get it a little early. :)
Multiplex Movie Reviews like this one, bonus comics from Multiplex: The Best Laid Plans (Book Four), and other stuff are being exclusively posted to Patreon a couple of times a week. Er, except for this one, obviously.
Other Recent Posts