Notes from the Manager
Related Strips: #514: A Flesh Wound; #524: Hazed and Confused, Part One; #525: Hazed and Confused, Part Two; #528: I Never Kid, Part One; #529: I Never Kid, Part Two
Since I promised a Wednesday strip, here's a Wednesday strip — but unfortunately a last-minute freelance gig added to the usual Thanksgiving family obligations are going to get in the way of having a third strip up this week. Hopefully three next week. Sorry!
(11/26 UPDATE: You can see a new hand-drawn Multiplex strip — or the pencils, anyway — over at the Deleted Scenes blog, though!)
As many of you know, I'm back to looking for freelance work to make up for the time spent working on Multiplex: Enjoy Your Show full-time earlier this year (which was, y'know, all of my living expenses). It's sort of annoying to be home spending so much time looking for paying work when I could be drawing more comics instead, but since the comics don't pay all my bills, I gotta look for work that does. :(
That said, if you want to pick up the book or a T-shirt in the near future, I will be having a sale running from Black Friday through Cyber Monday… Stop by the store on Friday to see what's up!
Multiplex News & Updates
Bonus comics, drawings, and
other awesome stuff
Saturday, May 27, 2017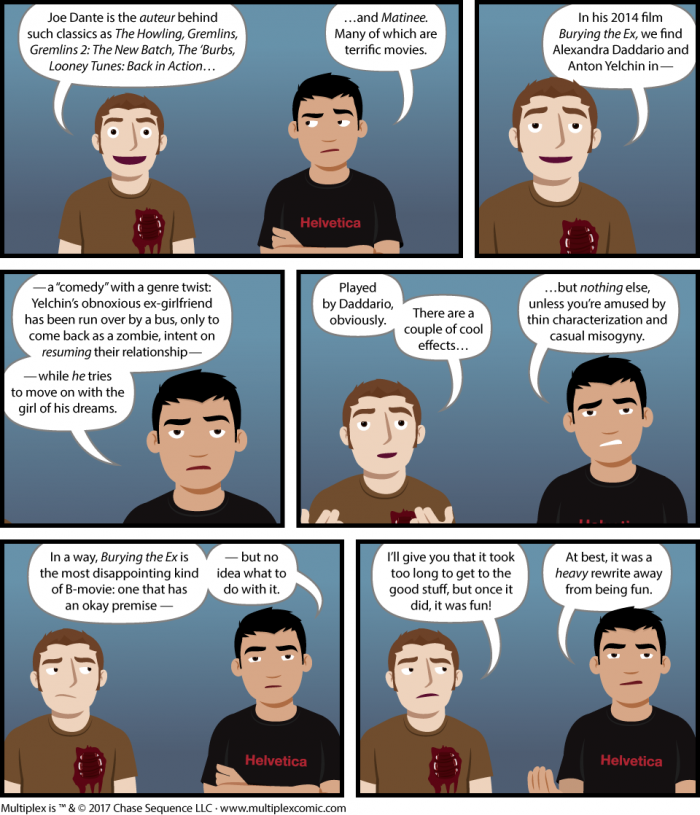 Hello, Multiplex readers!
A quick update on what's going on with everything Multiplex-related:
The storyboards for the Multiplex 10 animated short are DONE. Rough, but done. Pre-production continues for the next few weeks with the construction/editing/etc. of the first rough animatic and design/illustration work.
Although the Kickstarter project has ended, you can still support the project (or my comics work) by becoming a Patreon patron or making a one-time PayPal donation.
Multiplex: The Revenge (Book Three) is being shipped out to Kickstarter backers and will be available for purchase to everyone else on June 14th — as will the Multiplex mini-posters set.
I will be at Wizard World Philadelphia (Friday–Sunday only) with copies of Book Three, so if you're in that neck of the woods, you can get it a little early. :)
Multiplex Movie Reviews like this one, bonus comics from Multiplex: The Best Laid Plans (Book Four), and other stuff are being exclusively posted to Patreon a couple of times a week. Er, except for this one, obviously.
Other Recent Posts