Notes from the Manager
Related Strips: #505: You What, Part Five
Thanks to Ingo for the employee schedule Excel file you can see a tiny little glimpse of in panel 1!
The Multiplex Sales Drive continues… For those of you who don't yet read the Deleted Scenes blog posts, here's the skinny:
I'm hoping to raise enough money to get me through October's convention season with my head above water, before I start looking for freelance work to help pay the bills — because Multiplex doesn't cover them all, by any means. Instead of going by the number of book pre-orders, though, I've changed the bookmark promotion to go by a dollar amount: $5000. (By switching to the dollar amount, we're much closer to that goal than we were before, so I think that's fair.)
If (and only if) we sell $5000 worth of merchandise through the Multiplex Store between August 18th and September 18th: anyone who has pre-ordered the book (including Kickstarter backers) will get a Multiplex: Enjoy Your Show bookmark — and be eligible to win one of TEN Multiplex/Memento mini-posters and one of TEN Multiplex T-shirts (provided I have them in your size).
ll be shipping them with your book pre-order; other orders ship out as soon as I'm able.)
You can see the ballpark of where we're at just above the strip — just over $2000, at the moment. If you love Multiplex and want to see me keep updating it as often as possible, support the strip! I would love have have new content (either for the Multiplex archives or in Deleted Scenes) every day of the week, but unless Multiplex is my full-time job, that's not even remotely possible.
Although I can certainly juggle a bit of freelance work in addition to Multiplex, the more time I have to work on the strip, the more updates you'll see here at the site — and the sooner I can get working on bonus strips for Book 2.
If you've actually read all of this, then you might be interested in listening to my interview with the Webcomic Beacon crew from yesterday. We talked mostly about printing a book collection (it gets a tiny bit technical in spots) and movies, but we actually bothered to talk about Multiplex a little bit, too!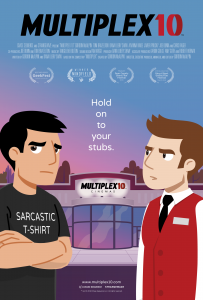 Multiplex 10 is here!
Although Multiplex 10 has ended, an animated prequel/reboot called Multiplex 10 was funded through Kickstarter in 2017 and is NOW AVAILABLE for rent or purchase on Vimeo On Demand, Amazon Video, and elsewhere! And an all-new, irregularly-updated Multiplex 10 web series (set after the short film) recently launched on YouTube! Learn more about the web series on the official Multiplex 10 website!
Stay up to date on all things Multiplex, Multiplex 10 and me (a.k.a. Gordon McAlpin) by subscribing to my newsletter!