Notes from the Manager
Related Strips: #469: Enquiring Minds Want to Know
Alinea is a real restaurant in Chicago. While I've never eaten there, the whole concept of art food just doesn't sit that well with me. I'm a traditionalist in some respects, at least with food. :) But it's more that I just have no interest in it than that I (like Whitey… er, Dub) think it's actually "novelty bullshit." The Hot Potato, Cold Potato is one of their signature dishes. EDIT: Oh, right, and you can literally eat the menu. EDIT 2: Or possibly not. At Moto, another "molecular gastronomy" sort of restaurant, you can.
Sorry about the late strip (I don't let it happen too often, as long-time readers know). We'll get back to Jason and Becky next week, I promise! I know a few of you were chomping at the bit about that. heh
In other news, the pre-order drive is going steadily — but a little slower than I had hoped. Please! If you love Multiplex and would like to pick up a copy of the book sooner or later, pre-order the book. The Kickstarter funds have long since run dry and ill-timed (as always) car problems are threatening my plans to go to Fallcon or the Indianapolis convention I have on my Events calendar. :( I need your help! If you aren't interested in the book, consider buying something else from the Multiplex Store — a print or a shirt, or even a vector portrait — or simply making a donation using the button in the sidebar.
And if you're completely broke (like me) and a Goodreads member, be sure to check out this item over at the Deleted Scenes blog. (I'll be plugging stuff over there in the Notes until I get the impression that most Multiplex readers actually know it exists.)
Multiplex News & Updates
Bonus comics, drawings, and
other awesome stuff
Saturday, July 1, 2017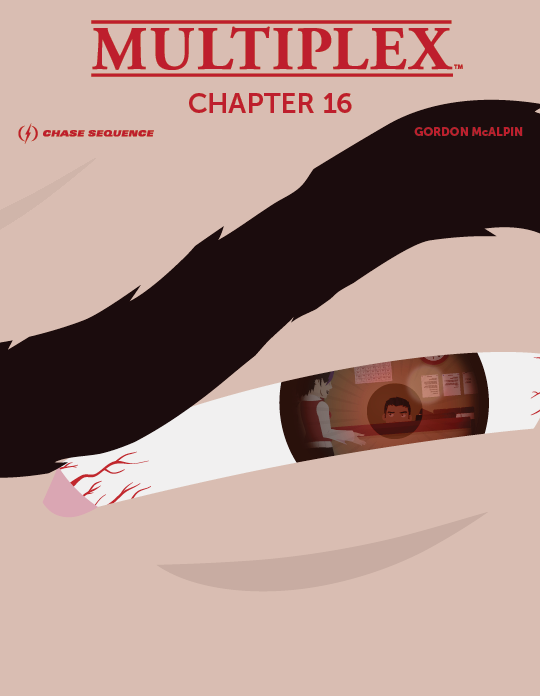 $3+ Patreon supporters get this one for free (until the next eBook is available), but for the rest of youse: The Multiplex: Chapter 16 eBook is now available!
Chapter 16 collects strips #339 –362 from the Multiplex archives, plus four bonus comics and one "extended scene" not found in the archives! Chapter 16 costs $1.99.
Supporting the Multiplex chapter eBooks helps make future Multiplex print collections possible. Thank you for your support!
Other Recent Posts