Notes from the Manager
Related Strips: #423: Refresher Course; #424: Simply Irresistible; #425: A Christmas Miracle; #467: Winners and Losers
Sorry, I was late! I was busy getting the Chapter 5 HD Edition eBook ready for the store yesterday and ran out of time. Of course, that means the Chapter 5 HD Edition eBook is ready and available at the store! The free Online Edition will be up in the next few days.
Chapter 5 contains strips 81–102 (from August 2006 through November 2006), as well as six bonus comics strips not found in the Multiplex archives!
(Kickstarter backers, check your e-mailz or pop over the Kickstarter Project Updates page for your coupon code.)
This also means that the Multiplex: Book 1 collection is that much closer to going to press. I've still got the Star Wars: Revenge of the Sith-centered storyline (about 8–10 pages), which will probably take me a good three weeks, and there's also the cover illustration and a few other illustrations left, so I'm looking at a good 4–6 weeks or so until I can send files to the printer.
The good thing is, despite the delays in finishing the book (I'm already over a month past my original target date, unfortunately — but again, it's not that I'm slacking; it's that my estimate for how long it'd take me to do all the new material was entirely too optimistic), I'm looking at a couple of printers in the US and Canada rather than China, which will make up for that lost time — so the book should still be on track for the same August availability I've been saying since… well, since the Kickstarter project started.
As always, I'll keep you posted!
OH! And I almost forgot: if you're in the Chicago area, I will be at the "Webcomics + Wine Event" at Third Coast Comics TOMORROW — Friday, May 7th — signing… um… whatever you've got for me to scribble on. I'll also do sketches and have a few small prints and mini-posters or whatever, since it's not like I have a book yet. (I sold out of the print editions of Chapter 1 at C2E2, sorry.)
Me, Lauren Burke and Greg Sorkin of P.I. Jane, and Tony Maldonado of both P.I. Jane and Chicago: 1968 will all be in attendance, talkin' comics, shooting shit, drinking wine, and apparently eating cupcakes, as well? This last part was news to me, but hey, who doesn't like cupcakes?
(P.I. Jane and Chicago: 1968 are both great, great comics, by the way. Check them out.)
Support Gordon McAlpin on Patreon!
Although Multiplex has ended, thanks to readers like you on Patreon, the Multiplex 10 will stay open for business! I'll be posting bonus comics from future print collections, Multiplex Movie Review strips, updates on the upcoming Multiplex 10 animated short, and, of course, other non-Multiplex stuff.
In addition to the warm, soothing feeling of being a patron of the arts, Patreon supporters get access to free Multiplex eBooks, sneak previews of upcoming comics and other behind the scenes peeks, sketch giveaways, and more!
Deleted Scenes Blog
Bonus comics, drawings,
movie trailers and more
Sunday, April 23, 2017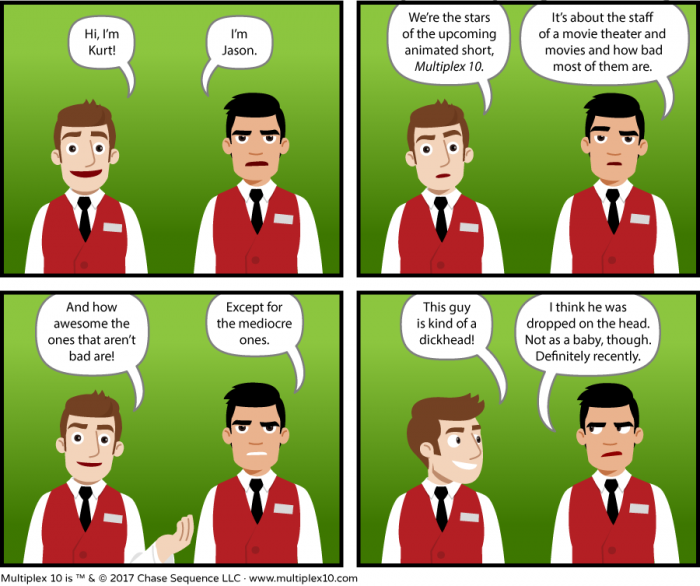 Hello! The Multiplex 10 Kickstarter project ends in just over 14 days. As of this writing, we are a little north of $12,000, so just over 80% of our base goal. Judging from my last two Kickstarters, we're doing very well. The final week should pick up considerably over this past week.
BUT don't forget that we still have a milestone goal of Jason reviewing every Harry Potter movie if we make that $15,000 baseline goal on/before Wednesday, April 26th, though! (Plus Fantastic Beasts if we make it on/before Monday, April 24th. But that seems kind of unlikely at this point.) I thought that was a fun premise… but it's up to the Gods of Kickstarter now.
I also officially added our first (and, at this point, only) STRETCH GOAL. At $20,000, we'll be able to do a few extra things:
Smoother, 4K animation
5.1 Surround Sound mix (courtesy sound designer Ian Vargo)
AND… a theatrical premiere at the Somerville Theatre here in Somerville, MA. (All backers at the Special Thanks level and up will get free admission… although, of course, transportation is not provided.)
Thanks so much for all your support. I'm exciting at how the Kickstarter project is coming together, and I can't wait to get started on the animated short. (Full time, I mean. I'm already working on it!)
Pledge your support today! If you haven't already!
Other Recent Posts