Notes from the Manager
Related Strips: #28: To the Extreme; #270: Seems Like Old Times, Part One; #271: Seems Like Old Times, Part Two; #469: Enquiring Minds Want to Know
With the 5th Chapter eBook complete (and available both at the store and to read at the site in an Online Edition), I'm conducting a bit of a viral marketing experiment: 133dpi CBRs of all five chapter eBooks to date are available via Demonoid and Pirate Bay (and possibly a couple of other torrent sites by the time you read this), for FREE. This is a limited-time thing, unless of course people go insane and keep seeding them forever and ever.
These CBRs are identical to the Online Editions in resolution — so, a bit larger than the current strips at the site. But they are not vector art, like the HD Editions in the store. They difference between these and the Online Editions, of course, is that you can download them, read 'em in the CBR reader of your choice, share 'em, whatever you want.
I'm going by a Radiohead-inspired "pay what you want" model for these, so if you like the CBRs, feel free to make a PayPal donation in any amount, or "upgrade" to the HD editions by buying them through the store… or, y'know, just let me know that you like them. If enough people like reading the Chapters as CBRs instead of only the high definition PDFs or the Online Editions, I might just keep offering them in the format.
In any case, please retweet, reupload, seed, promote and share these CBRs with anyone and everyone you think might enjoy Multiplex! For that matter, you can also embed or share the Online Edition eBooks wherever and however you like with Scribd.
P.S. Yes, Whitey is saying "aksed," not "asked." He's Whitey.
Multiplex News & Updates
Bonus comics, drawings, and
other awesome stuff
Saturday, July 1, 2017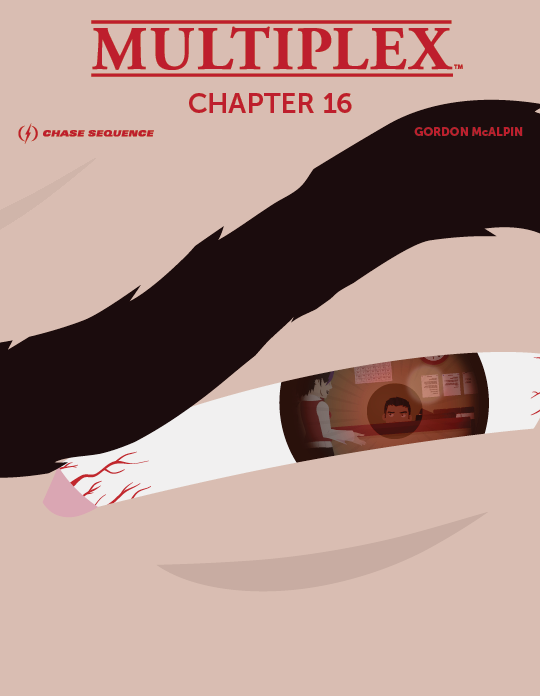 $3+ Patreon supporters get this one for free (until the next eBook is available), but for the rest of youse: The Multiplex: Chapter 16 eBook is now available!
Chapter 16 collects strips #339 –362 from the Multiplex archives, plus four bonus comics and one "extended scene" not found in the archives! Chapter 16 costs $1.99.
Supporting the Multiplex chapter eBooks helps make future Multiplex print collections possible. Thank you for your support!
Other Recent Posts