Notes from the Manager
Related Strips: #453: March Madness; #460: This Will End Badly, Part Four; #465: Pretty Good Bet; #466: Flattery Will Get You Everywhere
Hello, dear readers! I thought I'd point out a couple things:
1) If you've never noticed the previous Comic Tagger I had (the popular webcomics widget thingy by Ash Young), I've replaced it with a fancy text-based version, which you can see below the strip. It's the "Tag This Comic," etc., etc. thing. Thanks to Andrew Fulton (Hi, Andrew!), who made a fancy new version of it for coding it!
For those of you who don't visit the site every Monday and Thursday like clockwork, what this little thing does is — if you hit "Tag This Comic," it will save what strip you tagged, so that you can come back to it sometime in the future and pick up reading where you left off, not missing a single strip.
If you already used the Comic Tagger; it should function the same as before — with one tiny difference: you can now click "Tag This Comic" on the homepage and it will tag the current comic, not the homepage. If you prefer reading your comics in larger chunks (like me), this is a small but significant improvement. (You can also tag the online Chapter eBook pages, although there are only four of those so far.)
2) Sorry, RSS feed subscribers, but now that Multiplex is my day job, I gotta make some money from the 3,000+ subscribers (the majority of whom do not seem to click through to the site). [EDIT: I was sleepy and forgot to finish writing this section. Oops. Sorry for any confusion I may have caused, too.] SO in the near future I'll be adding an ad to the feed. I don't like ads in feeds anymore than the next guy, but it takes me a long time to make these free comics, y'know? I gotta pay rent somehow.
If it's of any consolation, I got rid of the two smaller Project Wonderful sidebar ads at the site? :)
Okay. Other than that, I'm still plugging away at the last new content for Chapter 5, and it should be available next week. (A strip or two should go up for Kickstarter backers in the near future.)
I'll be visiting the real life Melissa Recar today at the theater she manages (the Randall 15 IMAX in Batavia, Illinois). I'll tell her you said "hi."
SUPPORT GORDON McALPIN ON PATREON!
Although Multiplex has ended, thanks to readers like you on Patreon, the Multiplex 10 will stay open for business! I'll be posting bonus comics from future print collections, Multiplex Movie Review strips, updates on the upcoming Multiplex 10 animated short, and, of course, other non-Multiplex stuff.
In addition to the warm, soothing feeling of being a patron of the arts, Patreon supporters get access to free Multiplex eBooks, sneak previews of upcoming comics and other behind the scenes peeks, sketch giveaways, and more!
Multiplex News & Updates
Bonus comics, drawings, and
other awesome stuff
Saturday, April 29, 2017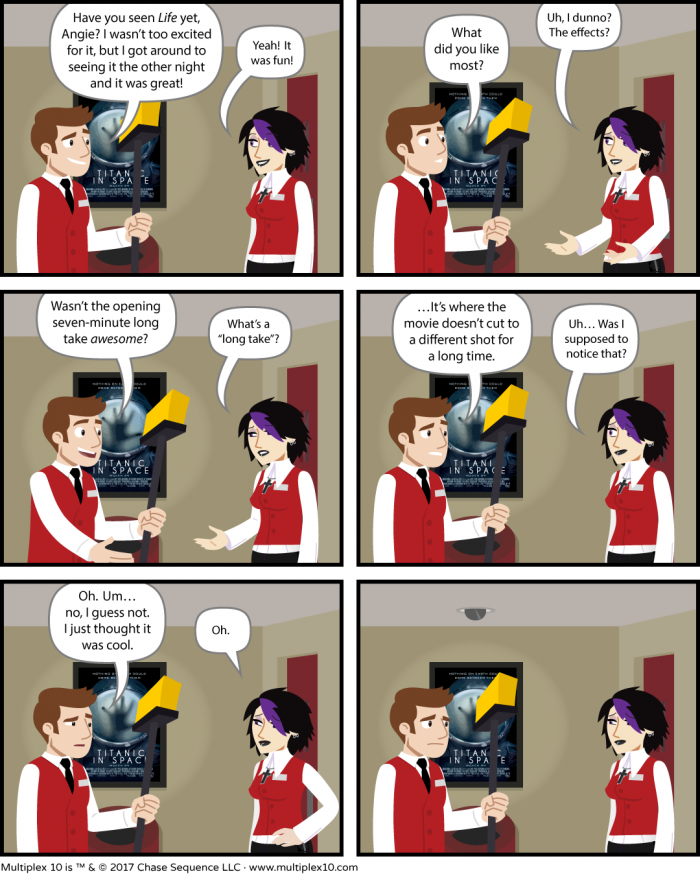 Angie, like Franklin, is another significant character from Multiplex who only gets a brief cameo in the pilot episode. So here she is in a Multiplex 10 comic strip.
At nearly $13,250 (as I write this), we're allllllmost at 90% funding with EIGHT DAYS to go. We need your support to make this pilot happen — and to help distribute it so that we can make more than just one episode! Check out the Multiplex 10 Kickstarter project page today! (Please.)
Also, in case you missed it, there were a couple of new… uh, I'm not sure how to refer to them. "Promo comics," I guess? The Multiplex 10 versions of Melissa & Becky and Franklin introduce themselves and talk about the animated short and one of the Kickstarter milestones, like the Kurt & Jason one I posted here a while ago. I posted those around the social medias and the separate, Multiplex 10-specific site, which some of you may not know about.
Other Recent Posts