Notes from the Manager
Related Strips: #339: Must Have the Precious; #343: The Thin Red Line; #351: Don't Be Crazy; #378: While You Were Gone, Part One; #379: While You Were Gone II: The Wrath of Keith; #404: Too Much Information; #405: The Sound of Silence
Since last Monday, we've raised just under $1400, meaning two lucky winners will have their Facebook/Twitter/whatever avatar drawn for them by yours truly in the Multiplex style. I'll contact the winners shortly.
We have $1610 remaining to guarantee that the project succeeds. With over 50 days left, I'm pretty confident that we can make it in three weeks on the outside, with plenty of time to spare. But let's not waste time! If we can raise more than the $7500 goal, we'll be able to cover more of the printing costs and use the money I have saved for promotion — or getting Book 2 started sooner rather than later.
The Fanboy Radio interview on Sunday went well, I think. Hopefully it will attract a few new readers to the strip — new readers who should really start from the beginning — or to the Kickstarter Project, which is most of what we discussed. (The episode, also featured Kickstarter co-founder Yancy Strickler and cartoonist Jamie Tanner (The Aviary), who has successfully funded his second graphic novel through Kickstarter.) The episode will be #528 and should be downloadable shortly.
I'm printing up a handful of copies of Multiplex: Chapter 1 (not to be confused with the Book 1 collection the Kickstarter Project is raising money for). If you want one now, please pre-order it. I won't be keeping very many of these on-hand; they're being printed by Ka-Blam (a print-on-demand service), so the profit margin is almost non-existent, even with a cover price of $3.99. To make it worth your while, I'll throw in a free copy of the HD edition eBook so you can compare the two. Add a T-shirt or a Memento mini-poster while you're at it! :)
UPDATE (10/20): By the way, the survey has ended, and between the comments I got there, the overall number of people who said yes they would buy one, and (well, okay, mainly) a couple of very impressive printing quotes I've received, the cover price of the book will now be $20.
But wait! There's more!
Although Multiplex has ended, thanks to readers like you on Patreon, the Multiplex 10 will stay open for business! I'll be posting bonus comics from future print collections, Multiplex Movie Review strips, updates on the upcoming Multiplex 10 animated short, and, of course, other non-Multiplex stuff.
In addition to the warm, soothing feeling of being a patron of the arts, Patreon supporters get access to free Multiplex eBooks, sneak previews of upcoming comics and other behind the scenes peeks, sketch giveaways, and more!
Deleted Scenes Blog
Bonus comics, drawings,
movie trailers and more
Sunday, April 23, 2017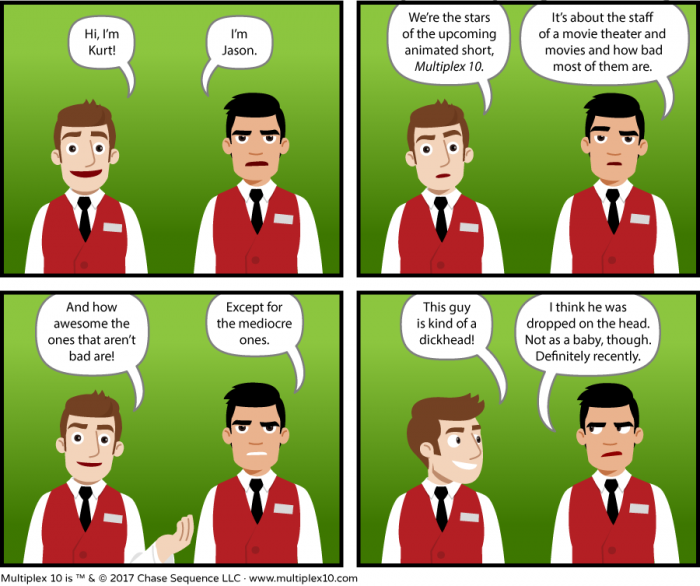 Hello! The Multiplex 10 Kickstarter project ends in just over 14 days. As of this writing, we are a little north of $12,000, so just over 80% of our base goal. Judging from my last two Kickstarters, we're doing very well. The final week should pick up considerably over this past week.
BUT don't forget that we still have a milestone goal of Jason reviewing every Harry Potter movie if we make that $15,000 baseline goal on/before Wednesday, April 26th, though! (Plus Fantastic Beasts if we make it on/before Monday, April 24th. But that seems kind of unlikely at this point.) I thought that was a fun premise… but it's up to the Gods of Kickstarter now.
I also officially added our first (and, at this point, only) STRETCH GOAL. At $20,000, we'll be able to do a few extra things:
Smoother, 4K animation
5.1 Surround Sound mix (courtesy sound designer Ian Vargo)
AND… a theatrical premiere at the Somerville Theatre here in Somerville, MA. (All backers at the Special Thanks level and up will get free admission… and, of course, transportation is not provided.)
Thanks so much for all your support. I'm exciting at how the Kickstarter project is coming together, and I can't wait to get started on the animated short. (Full time, I mean. I'm already working on it!)
Pledge your support today! If you haven't already!
Other Recent Posts