Notes from the Manager
Related Strips: #404: Too Much Information
Don't forget! For every $500 we raise through Kickstarter past $4500 before Monday, one lucky winner will have their Facebook/Twitter/whatever avatar drawn for them by yours truly in the Multiplex style. (And once I've drawn you, it's pretty much a given that you'll appear in the regular strip at some point.) There's guaranteed to be one winner already, and we're just shy of a second one — which means double the chance to win for everybody! UPDATE 8:56 am: Woot! We just jumped past the $5500 mark and the 3/4 mark thanks in part to one very generous pledge. (Really, everybody who has pledged to date is responsible, so thank you all again.)
We're in the home stretch now, so to help get us to the $7500 level and beyond, I've lowered the $400 pledge level to a BARGAIN at $300 (I can do that since there haven't been any takers yet), which includes all of the lower level rewards — the thank you, the eBooks, the print book, the exclusive T-shirt, the character sketch, the cameo appearance and avatar graphics — plus an all-new hand-drawn, single-page comic of anything you want (except porn).
AND. The second webcomicker to get in on the Kickstarter Action is Templar, Arizona's Spike, whom I believe first heard about the fundraising site from yours truly, at the Windy City Comicon. She's got a project called Poorcraft that sounds like a book I wish I'd had ten years ago: a non-fiction volume (mostly but not entirely comics, which will be drawn by Diana Nock) about learning to be poor in order to do what you really want to do with your life.
Check out the Poorcraft Kickstarter pitch and back it, too, if you're so inclined. (And yes, I already made my pledge. I'm no hypocrite.)
Speaking of Kickstarter, I'll be joining the Fanboy Radio crew for another installment of "The Indie Show" this Sunday at 6pm CST. The episode looks like it will be mainly about the various comics projects on Kickstarter, as the rest of the episode will be taken up by Kickstarter co-founder Yancy Strickler and cartoonist Jamie Tanner (The Aviary), who has successfully funded his second graphic novel through Kickstarter.
But wait! There's more!
Although Multiplex has ended, thanks to readers like you on Patreon, the Multiplex 10 will stay open for business! I'll be posting bonus comics from future print collections, Multiplex Movie Review strips, updates on the upcoming Multiplex 10 animated short, and, of course, other non-Multiplex stuff.
In addition to the warm, soothing feeling of being a patron of the arts, Patreon supporters get access to free Multiplex eBooks, sneak previews of upcoming comics and other behind the scenes peeks, sketch giveaways, and more!
Deleted Scenes Blog
Bonus comics, drawings,
movie trailers and more
Sunday, April 23, 2017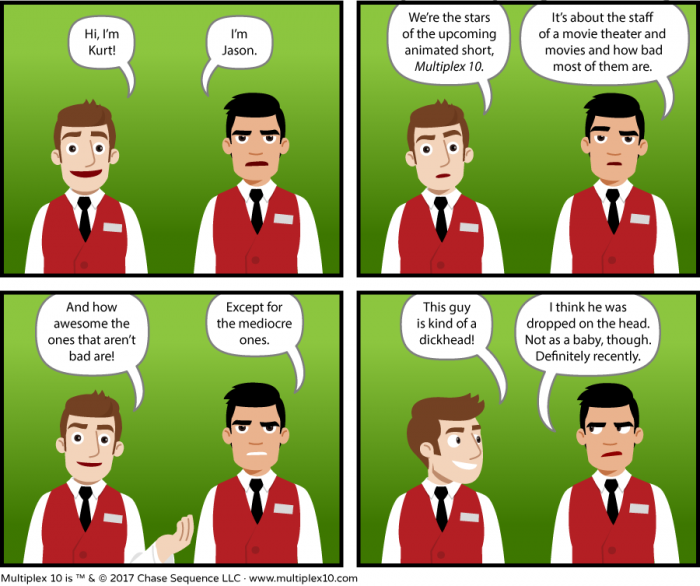 Hello! The Multiplex 10 Kickstarter project ends in just over 14 days. As of this writing, we are a little north of $12,000, so just over 80% of our base goal. Judging from my last two Kickstarters, we're doing very well. The final week should pick up considerably over this past week.
BUT don't forget that we still have a milestone goal of Jason reviewing every Harry Potter movie if we make that $15,000 baseline goal on/before Wednesday, April 26th, though! (Plus Fantastic Beasts if we make it on/before Monday, April 24th. But that seems kind of unlikely at this point.) I thought that was a fun premise… but it's up to the Gods of Kickstarter now.
I also officially added our first (and, at this point, only) STRETCH GOAL. At $20,000, we'll be able to do a few extra things:
Smoother, 4K animation
5.1 Surround Sound mix (courtesy sound designer Ian Vargo)
AND… a theatrical premiere at the Somerville Theatre here in Somerville, MA. (All backers at the Special Thanks level and up will get free admission… and, of course, transportation is not provided.)
Thanks so much for all your support. I'm exciting at how the Kickstarter project is coming together, and I can't wait to get started on the animated short. (Full time, I mean. I'm already working on it!)
Pledge your support today! If you haven't already!
Other Recent Posts