Notes from the Manager
Related Strips: #403: The Delusionist; #404: Too Much Information; #406: Mistaken Identity
First things first: the good news.
The survey has ended, and between the comments I got there, the overall number of people who said yes they would buy one, and (well, okay, mainly) a couple of very impressive printing quotes I've received, the cover price of the book will now be $20.
The bad news is… that's only if the Kickstarter project succeeds! Without the Kickstarter funding, the book will not happen. At least not for another year or so. No time to create all the new material for the book, no time to put it all together, and certainly not enough money to pay for the print run and shipping from China, customs clearance, an ISBN number, etc.
If you are a big fan of Multiplex, please consider pledging at the $30 level or higher. It's not just to get your copy of the print book (with free shipping!), the eBooks, a thank you, and access to all of the exclusive bonus content I will be showering backers with once the project is successful (especially in February and March, when I'll be buckling down to finish the book) — it's to help support Multiplex, because while every penny of the Kickstarter funds will go towards the book itself, the profits from the book will finance Book 2 and hopefully one or two spin-off projects (yes, Multiplex spin-offs), as well.
Even if you can't afford the $30 level, you'll get the first two HD eBooks free (the second one will be done in the next few weeks, I hope) and access to the exclusive content at any level — even if you just pledge $1! You'll also be eligible to win Cool Shit in occasional random drawings. But after December 11th, the Club of Awesome's doors are locked!
Think of the Multiplex: Book 1 Kickstarter Project like NPR or PBS: sure, you get (most of) the content for free, but if you want to continue getting the same great comics — or, actually, more of them — then please pledge today!
In other news (but kind of not), the Fanboy Radio interview from Sunday is online now, for your podcasting pleasure. The episode, #528, featured Kickstarter co-founder Yancy Strickler and cartoonist Jamie Tanner (The Aviary), who has successfully funded his second graphic novel through Kickstarter, and then of course myself, talking about Multiplex and the Kickstarter project.
UPDATE (10/23): Oh my god. When you guys get excited about something, you guys get excited. The Multiplex/Kickstarter project raised over $600 in the past two days — more than enough to be successfully funded on its end date — but please, keep those pledges coming! This Kickstarter update outlines (most of?) shows how reaching the $7500 goal just covers about 2/3 of the costs associated with printing the book and the Kickstarter Project — to say nothing of my living expenses while I finish the book, which the project was meant to cover, as well.
Thank you so much to everyone who has pledged to date. Keep telling your friends to support the project, though — we've got 49 days left to keep raising money for the book, and by gum, we should take advantage of them.
But wait! There's more!
Although Multiplex will be ending soon, thanks to readers like you on Patreon, the Multiplex 10 will stay open for business! I'll be posting bonus comics from future print collections, Multiplex Movie Review strips, updates on the upcoming Multiplex animated short, and, of course, other non-Multiplex stuff.
In addition to the warm, soothing feeling of being a patron of the fine art of comic strippery, Patrons get access to free Multiplex eBooks, sneak previews of upcoming comics and other behind the scenes peeks, sketch giveaways, and more!
You can also support Multiplex by shopping at the Multiplex store — or at Amazon via these affiliate links: United States | United Kingdom | Canada
Deleted Scenes Blog
Bonus comics, drawings,
movie trailers and more
Thursday, March 16, 2017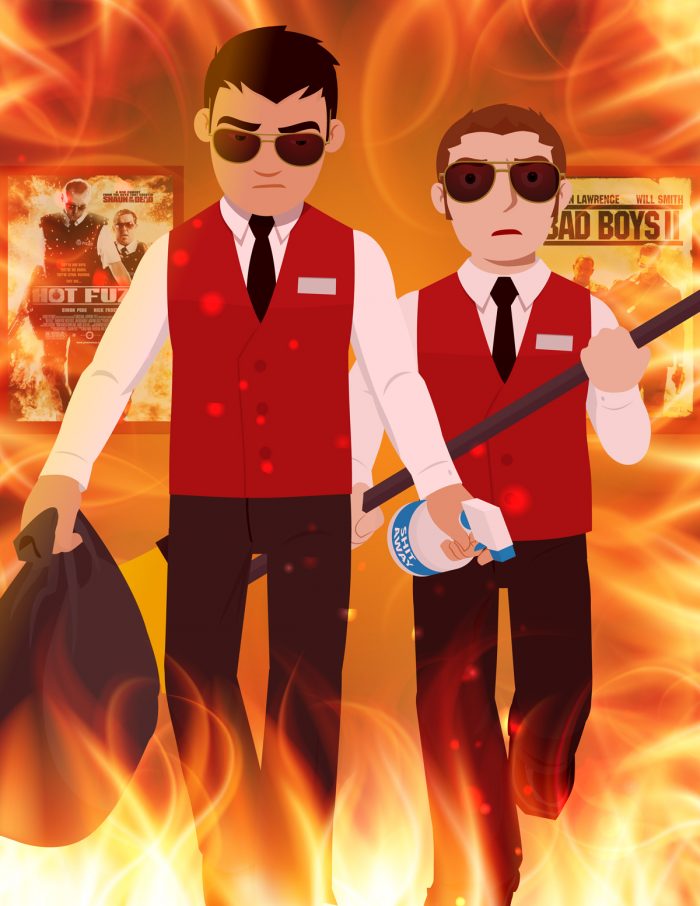 A brand spanking new eBook collecting all twenty-nine Multiplex Movie Reviews to date is now available via Gumroad. It's priced at $1.99 and includes a bunch of strips never posted to the Multiplex site and previously only available to Kickstarter backers and Patreon patrons. Some of them are even funny!
(Please note that if you are a Book Three Kickstarter backer or current Patreon patron, you already have access to this eBook! I included a link in the latest updates on each site.)
Other Recent Posts