Notes from the Manager
Related Strips: #259: Here He Goes Again
You can see the trailer for Milk over at Apple. The film has been in limited release for a couple of weeks, but should in a relatively wide release across North America now.
We'll be talking about it a bit tonight at 9PM Central on The Triple Feature (as well as a few other movies, including — I think — Doubt and The Day the Earth Stood Still), but the short version of my opinion of the film is that I felt it did a terrific job of balancing the story of the life of Harvey Milk with enough historical context to make it understandable — yet without ever feeling like a history book, either. To the filmmakers' credit, they also managed to avoid whitewashing Milk as a human and glorifying him to the point of some sort of mythological hero, as well.
The cast is superb and director Gus Van Sant's use of archival footage throughout the film, rather than just at the end as in many other biopics, really helps to set the film in its time and place (and, presumably, to keep the budget down). Much more than just a cookie-cutter biopic or an "issue" movie, Milk is a fantastic movie: smart, funny, and, of course, heartbreaking, but never too sentimental for its own good.
(If you're wondering why Chase not knowing who Harvey Milk is is a big deal, I recommend Steven Petrow's recent editorial, "Remembering the Lessons of Harvey Milk: What It Means to Be Gay," for The Huffington Post.)
Multiplex News & Updates
Bonus comics, drawings, and
other awesome stuff
Thursday, June 15, 2017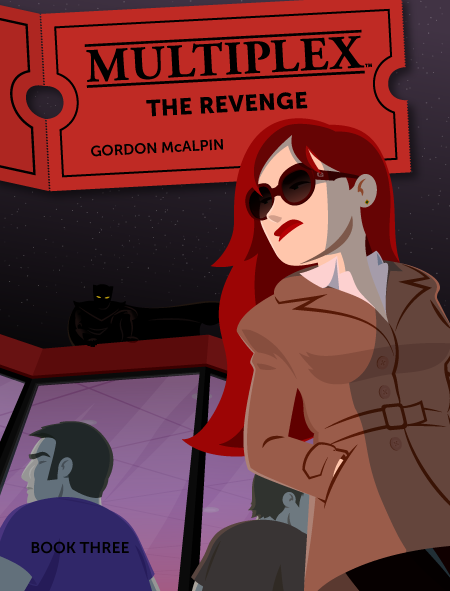 Multiplex: The Revenge (Book Three) is now available in the Multiplex Store! (Only regular/unsigned editions are available at this time; I'll add artist's editions once all of the Kickstarter rewards have been fulfilled.)
Multiplex: The Revenge collects chapters 11–15 of the series (strips #217–338, which ran from March 2008 to March 2009), plus over 30 bonus comics — including an all-new stories sets on opening night of The Dark Knight and Zack Snyder's Watchmen! If you miss Multiplex and would like to see more with these characters, the book collections are for you.
Head on over to the Multiplex Store and check it out today!
Other Recent Posts