Notes from the Manager
So… yeah! I'm sure some of you will want to discuss Elysium below, but please keep the comments below spoiler-free for people who haven't seen it yet. No "spoiler warnings," just… you know, discuss it without unreasonable spoilers.
My take: it's pretty dumb. As an action movie, it's fun, and there are some great effects in it, but the way the premise plays out is like is about as sophisticated as an eight year old wishing for world peace. It just doesn't explore its ideas with any depth.
I wouldn't say Elysium is District 9 all over again, personally, but some critics have, so I thought I'd make Jason think that. In any case, District 9 is the smarter movie, the more engaging movie, and the better action movie because of it.
(I think they're different enough, but I think a lot of people were hoping Elysium would be as different from District 9 as District 9 was from… well, every science fiction movie before it. Except for maybe Alien Nation. What we got was… very much a companion piece. I hope Neill Blomkamp stretches his range a little bit more next time around.)
Please be sure to check out the post below re: Multiplex T-shirts and being a model and whatnot!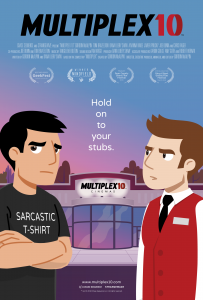 Multiplex 10 is here!
Although Multiplex 10 has ended, an animated prequel/reboot called Multiplex 10 was funded through Kickstarter in 2017 and is NOW AVAILABLE for rent or purchase on Vimeo On Demand, Amazon Video, and elsewhere! And an all-new, irregularly-updated Multiplex 10 web series (set after the short film) recently launched on YouTube! Learn more about the web series on the official Multiplex 10 website!
Stay up to date on all things Multiplex, Multiplex 10 and me (a.k.a. Gordon McAlpin) by subscribing to my newsletter!