Notes from the Manager
Related Strips: #353: Right Hand Man
This isn't really the start of an arc so much as a couple of strips set on the same night. More with Kurt and Angie and Jason and Becky later this week!
(Incidentally, Tease's line isn't really a spoiler since I haven't seen Elysium yet and, duh, it's obvious. Also, I think they show him on Elysium in the trailer, right? I forget. I've been avoiding the more recent clips and trailers for it, since I'm pretty excited about it.)
'Til then, it would be swell if some of you guys could help me test out the brand-new Multiplex Store. (By buying something, I mean.) There are still some things I can't really test out without real live transactions going through. It currently accepts Paypal and Amazon Payments.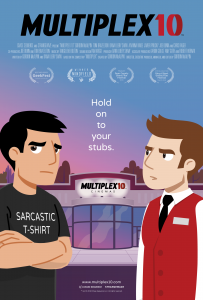 Multiplex 10 is here!
Although Multiplex 10 has ended, an animated prequel/reboot called Multiplex 10 was funded through Kickstarter in 2017 and is NOW AVAILABLE for rent or purchase on Vimeo On Demand, Amazon Video, and elsewhere! And an all-new, irregularly-updated Multiplex 10 web series (set after the short film) recently launched on YouTube! Learn more about the web series on the official Multiplex 10 website!
Stay up to date on all things Multiplex, Multiplex 10 and me (a.k.a. Gordon McAlpin) by subscribing to my newsletter!