Notes from the Manager
Related Strips: #142: You Got Some 'Splainin' to Do; #143: Phoning It In; #352: A Multiplex Carol
I'm gonna try to get a bonus update in the next few days; I'm aiming to have a Star Trek-related strip for Monday, but I may need to push that to later in the week in order to put out this last strip in the arc before then. We'll see!
If the inconsistent (but always twice a week or more!) updates perturb you, you should follow me at Twitter (@gmcalpin) or subscribe to the RSS feed, to save yourself the trouble of visiting the site constantly or risk missing a strip.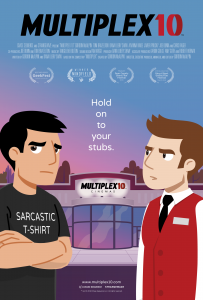 Multiplex 10 is here!
Although Multiplex 10 has ended, an animated prequel/reboot called Multiplex 10 was funded through Kickstarter in 2017 and is NOW AVAILABLE for rent or purchase on Vimeo On Demand, Amazon Video, and elsewhere! And an all-new, irregularly-updated Multiplex 10 web series (set after the short film) recently launched on YouTube! Learn more about the web series on the official Multiplex 10 website!
Stay up to date on all things Multiplex, Multiplex 10 and me (a.k.a. Gordon McAlpin) by subscribing to my newsletter!