Notes from the Manager
Related Strips: #370: Exactly Like That; #684: You Do It to Yourself
So Michael Bay announced that they were "bringing Megan Fox back into the family" for the new TMNT flick he's producing, and Entertainment Weekly confirmed that was referring to Fox being cast as April in the flick. (Interesting that Bay used the abbreviation TMNT when it's currently going by the title of Ninja Turtles, they're supposedly maybe not mutants, and possibly not even teenagers anymore…? Whatever.)
For those not up on their Turtle lore, April's occupation has been one of the big wildcards in the various incarnations: she was a computer programmer (like Franklin!) and Baxter Stockman's assistant in the original Mirage comics, she was a reporter on the original animated series, and she's also been the proprietor of an antique shop, dabbled in archaeology, and trained as a ninja.
Anyway. This TMNT-flavored Michael Bay is the Devil shirt has been in the store for some time, but this is its debut in the comic.
Multiplex News & Updates
Bonus comics, drawings, and
other awesome stuff
Saturday, July 1, 2017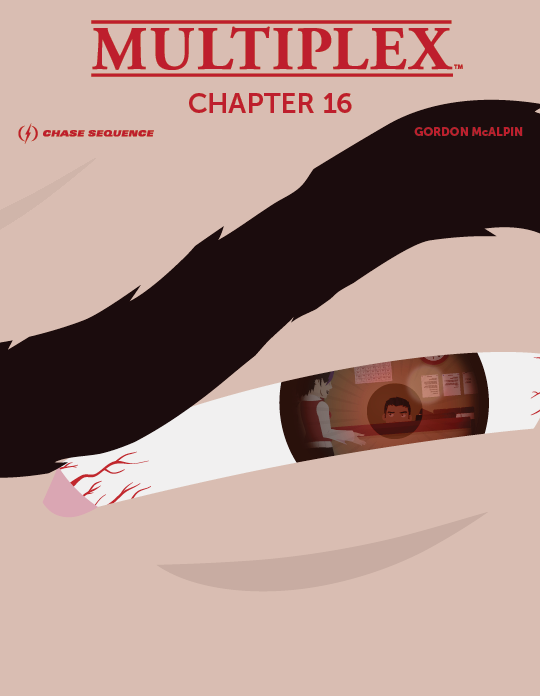 $3+ Patreon supporters get this one for free (until the next eBook is available), but for the rest of youse: The Multiplex: Chapter 16 eBook is now available!
Chapter 16 collects strips #339 –362 from the Multiplex archives, plus four bonus comics and one "extended scene" not found in the archives! Chapter 16 costs $1.99.
Supporting the Multiplex chapter eBooks helps make future Multiplex print collections possible. Thank you for your support!
Other Recent Posts