Notes from the Manager
Related Strips: #674: Cut; #675: In Fear of Fear; #676: Walk Away; #677: This Unrest; #765: Happy to See You
I'm starting to worry that too many of the Multiplex storylines end with Jason apologizing for everything even when it's not really his fault. Write what you know…?
So grad school is done for the semester! (Whew!) And now that this strip is up (sorry it was late), I'll get cracking on Multiplex: There and Back Again… again… starting tomorrow morning.
I've got some movies to catch up on, too. What should I see first? Skyfall, The Hobbit, or… something else? (PLEASE — absolutely no spoiler talk below!)
Last-minute Christmas shoppers, take note of the Amazon affiliate link below! If you're going to get stuff through Amazon anyway, clicking over to Amazon through that link (or this one) before shopping there tosses me a small kickback… meaning you can help support Multiplex at absolutely no cost to you! Win/win. (Well, your local mom and pop shops lose, because it's Amazon. But still.)
Multiplex News & Updates
Bonus comics, drawings, and
other awesome stuff
Saturday, May 27, 2017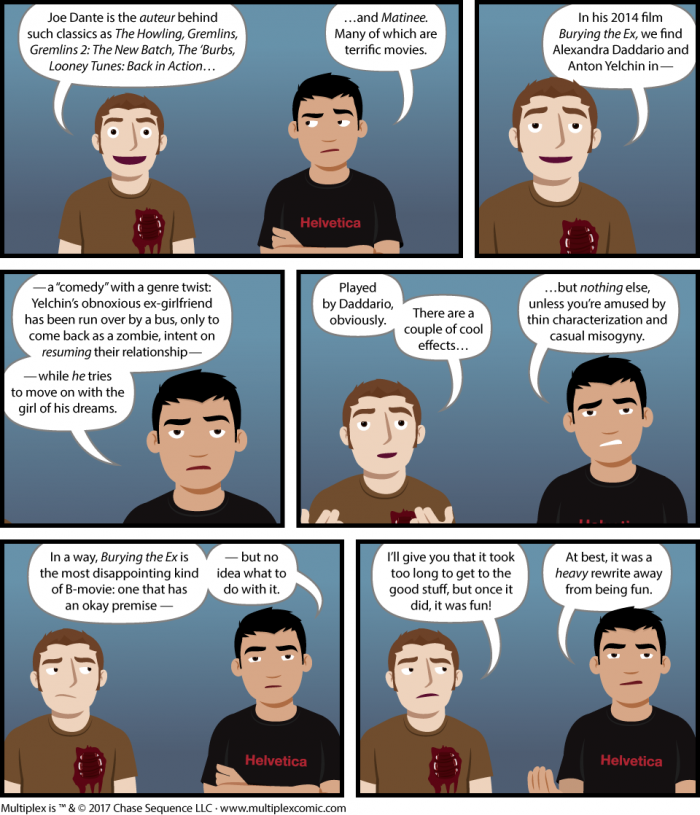 Hello, Multiplex readers!
A quick update on what's going on with everything Multiplex-related:
The storyboards for the Multiplex 10 animated short are DONE. Rough, but done. Pre-production continues for the next few weeks with the construction/editing/etc. of the first rough animatic and design/illustration work.
Although the Kickstarter project has ended, you can still support the project (or my comics work) by becoming a Patreon patron or making a one-time PayPal donation.
Multiplex: The Revenge (Book Three) is being shipped out to Kickstarter backers and will be available for purchase to everyone else on June 14th — as will the Multiplex mini-posters set.
I will be at Wizard World Philadelphia (Friday–Sunday only) with copies of Book Three, so if you're in that neck of the woods, you can get it a little early. :)
Multiplex Movie Reviews like this one, bonus comics from Multiplex: The Best Laid Plans (Book Four), and other stuff are being exclusively posted to Patreon a couple of times a week. Er, except for this one, obviously.
Other Recent Posts