Notes from the Manager
Related Strips: #668: Disintegration; #669: Love Will Tear Us Apart
And… back to the movie.
If anybody from Shortpacked! has decided to stick around with Multiplex after last week's crossover, as you might have guessed from this strip, we're in the middle of a story arc. So I'd recommend hopping back to the beginning of Chapter 26 to get caught up, if not the very beginning.
Special thanks to Phat Do and Chris Wood, two Multiplex: The Movie Sponsors who appear in panel 2. (Phat was also a Kickstarter backer and had an cameo in the Multiplex: Enjoy Your Show Prequel, so I was able to sneak his head into panel 1, as well.) Don't worry, guys. You'll be back. And thank you for your support!
There are a few more Sponsor spots left, although — as current sponsors know — I was a little off in my guess about when the bulk of these cameos would pop up. Soon. I want the cameos to be worthy of their generosity (and patience), and most of the earlier zombies needed to be existing Multiplex characters or were kind of crappy. There will be lots more zombies. But telling the story properly takes precedence.
One point of continuity for Multiplex readers: the crossover was actually set after the next few strips. (I'll be rearranging them in any collections I do at a later date.) The only thing that has to do with anything is that Phantom Menace 3D came out in February, so obviously they took place then. And the next few strips finishing off Chapter 27 are set in January, when they gang is just getting back to filming their movie after the holidays.
But wait! There's more!
Although Multiplex has ended, thanks to readers like you on Patreon, the Multiplex 10 will stay open for business! I'll be posting bonus comics from future print collections, Multiplex Movie Review strips, updates on the upcoming Multiplex 10 animated short, and, of course, other non-Multiplex stuff.
In addition to the warm, soothing feeling of being a patron of the arts, Patreon supporters get access to free Multiplex eBooks, sneak previews of upcoming comics and other behind the scenes peeks, sketch giveaways, and more!
Deleted Scenes Blog
Bonus comics, drawings,
movie trailers and more
Sunday, April 23, 2017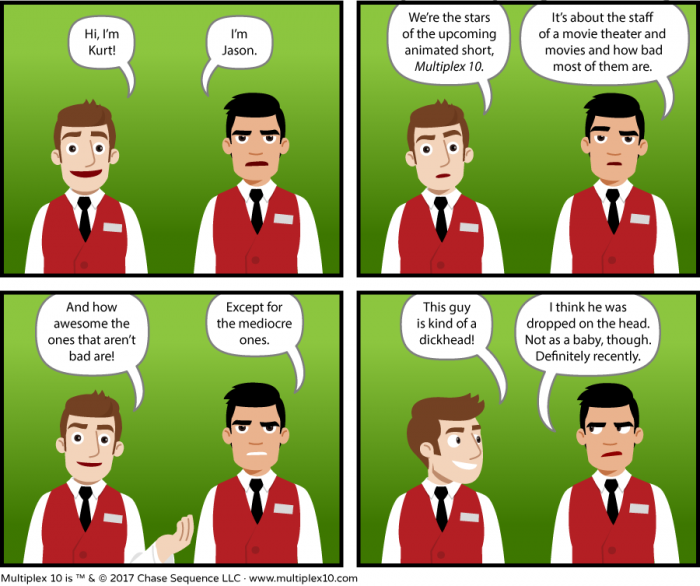 Hello! The Multiplex 10 Kickstarter project ends in just over 14 days. As of this writing, we are a little north of $12,000, so just over 80% of our base goal. Judging from my last two Kickstarters, we're doing very well. The final week should pick up considerably over this past week.
BUT don't forget that we still have a milestone goal of Jason reviewing every Harry Potter movie if we make that $15,000 baseline goal on/before Wednesday, April 26th, though! (Plus Fantastic Beasts if we make it on/before Monday, April 24th. But that seems kind of unlikely at this point.) I thought that was a fun premise… but it's up to the Gods of Kickstarter now.
I also officially added our first (and, at this point, only) STRETCH GOAL. At $20,000, we'll be able to do a few extra things:
Smoother, 4K animation
5.1 Surround Sound mix (courtesy sound designer Ian Vargo)
AND… a theatrical premiere at the Somerville Theatre here in Somerville, MA. (All backers at the Special Thanks level and up will get free admission… and, of course, transportation is not provided.)
Thanks so much for all your support. I'm exciting at how the Kickstarter project is coming together, and I can't wait to get started on the animated short. (Full time, I mean. I'm already working on it!)
Pledge your support today! If you haven't already!
Other Recent Posts