Notes from the Manager
Related Strips: #639: Aaah! Zombies!!; #749: Finally, Part One
Payoff for a seemingly innocuous detail 110 strips ago. I am totally doing webcomics wrong.
This one's gonna fly past a lot of you, but it's clear that it's something to do with the projector, right? (The ZScreen is "a push-pull electro-optical liquid crystal modulator that is placed immediately in front of the projector lens… to alternately polarize the light from each video frame. It circularly polarizes the frames clockwise for the right eye and counterclockwise for the left eye." [Wikipedia])
I guess if you don't count all the bonus comics and such, Multiplex is 750 strips old today. Thank you for reading. Sorry the schedule's been wonky recently. I hope to get back on track once the hand-drawn movie stuff is over, and there will be a short break between Books 6 and 7 for me to try to get a buffer together for like the second time ever.
If any of you webcartoonists (or cartoonists or animators or whatever) out there would like to do a Multiplex guest strip, drop me an e-mail, and I'll give you the details/requirements.)
Movie theater workers: What did you think the "Z" stood for?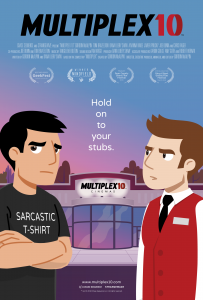 Multiplex 10 is here!
Although Multiplex 10 has ended, an animated prequel/reboot called Multiplex 10 was funded through Kickstarter in 2017 and is NOW AVAILABLE for rent or purchase on Vimeo On Demand, Amazon Video, and elsewhere! And an all-new, irregularly-updated Multiplex 10 web series (set after the short film) recently launched on YouTube! Learn more about the web series on the official Multiplex 10 website!
Stay up to date on all things Multiplex, Multiplex 10 and me (a.k.a. Gordon McAlpin) by subscribing to my newsletter!