Notes from the Manager
Related Strips: #637: This Is Foreshadowing; #638: Try a Little Tenderness
Technically, the title should read zombie — singular — but I borrowed it from an actual zombie movie of the same name. I haven't seen it, but the real life Kurt Bollinger — who turned 37 on October 26th and gets married (not to a woman named Melissa Recar) on November 11th — says it's awesome. His taste in movies is an abomination, however, so take that with a few grains of salt.
I think this is a wrap for their first night of filming, but we'll see what I come up with on Monday…
I will be at MiX this weekend. Come see me and Zach Miller (Joe and Monkey) at Table 46 this Saturday and Sunday at the Soap Factor's second annual Minneapolis Indie Expo. On Saturday at 1pm, courtesy of the Nordeast Comics Summit, I'll be giving a Digital Illustration workshop, as well, so if you'd like to see how the vector magic happens, be sure to hunt me down then.
Multiplex News & Updates
Bonus comics, drawings, and
other awesome stuff
Saturday, May 27, 2017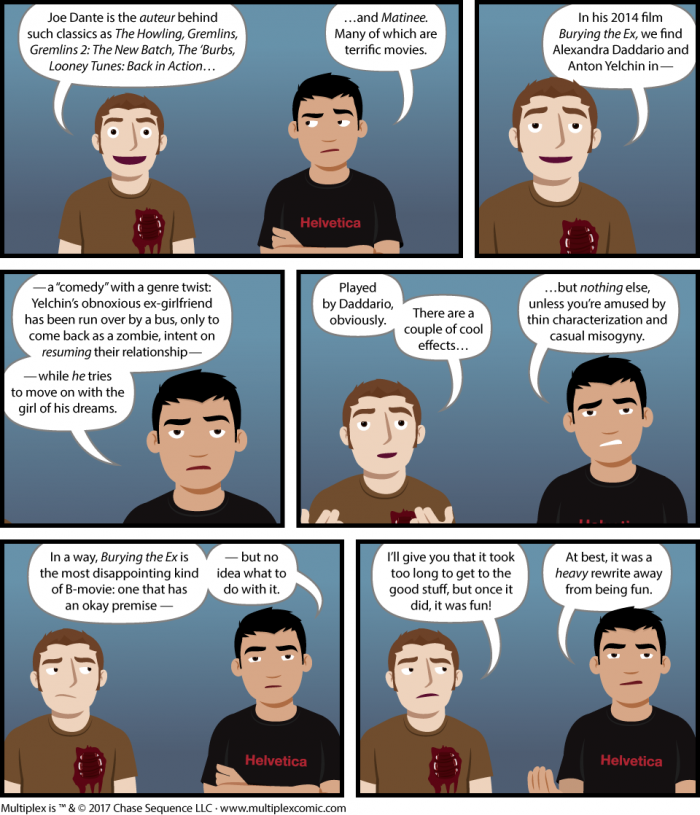 Hello, Multiplex readers!
A quick update on what's going on with everything Multiplex-related:
The storyboards for the Multiplex 10 animated short are DONE. Rough, but done. Pre-production continues for the next few weeks with the construction/editing/etc. of the first rough animatic and design/illustration work.
Although the Kickstarter project has ended, you can still support the project (or my comics work) by becoming a Patreon patron or making a one-time PayPal donation.
Multiplex: The Revenge (Book Three) is being shipped out to Kickstarter backers and will be available for purchase to everyone else on June 14th — as will the Multiplex mini-posters set.
I will be at Wizard World Philadelphia (Friday–Sunday only) with copies of Book Three, so if you're in that neck of the woods, you can get it a little early. :)
Multiplex Movie Reviews like this one, bonus comics from Multiplex: The Best Laid Plans (Book Four), and other stuff are being exclusively posted to Patreon a couple of times a week. Er, except for this one, obviously.
Other Recent Posts