Notes from the Manager
Related Strips: #735: Closed Off
These are the unfinished pencils at the moment… I'm a little overwhelmed by school and freelance work at the moment.
I hope to ink the strip in the morning or afternoon and update the image. Until then, you get to see how my pencils have loosened up recently. You can also see how I've — very recently — started to use Illustrator to do some of the precise/tight stuff that I don't enjoy doing by hand. Drawing with a ruler is no fun. I still ink this stuff by hand, though, so the finished pages look consistent.
So yeah. See you again later today, perhaps? Or Monday.
UPDATE (9/13, 10am): Well, you guys seem happy enough with the pencils, it seems, so perhaps I'll save inking them for a week when I'm not quite so overwhelmed. Thanks for bearing with me, humoring my rough pencils, and — as always — for reading.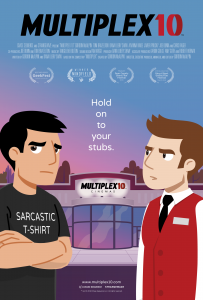 Multiplex 10 is here!
Although Multiplex 10 has ended, an animated prequel/reboot called Multiplex 10 was funded through Kickstarter in 2017 and is NOW AVAILABLE for rent or purchase on Vimeo On Demand, Amazon Video, and elsewhere! And an all-new, irregularly-updated Multiplex 10 web series (set after the short film) recently launched on YouTube! Learn more about the web series on the official Multiplex 10 website!
Stay up to date on all things Multiplex, Multiplex 10 and me (a.k.a. Gordon McAlpin) by subscribing to my newsletter!