Notes from the Manager
Related Strips: #98: There's a First Time for Everything; #630: Imitation of Life; #717: The Great Escape, Part One; #718: The Great Escape, Part Two
Becky's dealing with a different kind of zombie now — high school kids during first period!
By the way, although the Chicago teacher's union is on strike as of today, Becky is not a strikebreaker; the substitute teaching network (mentioned in #718) only works with charter and private schools, not Chicago Public Schools. As a pinko, I just that to be clear.
The Substitute is, of course, a 1996 action thriller starring Tom Berenger best known for spawning three straight-to-DVD sequels (starring Treat Williams).
Back to the movie on Thursday… assuming I get the strip done on time. See you then.
Coincidentally, I'm TAing my first discussion groups at the University of Minnesota today! So I guess it's my first day as a teacher, as well. Kind of.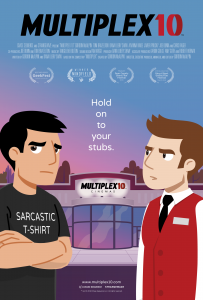 Multiplex 10 is here!
Although Multiplex 10 has ended, an animated prequel/reboot called Multiplex 10 was funded through Kickstarter in 2017 and is NOW AVAILABLE for rent or purchase on Vimeo On Demand, Amazon Video, and elsewhere! And an all-new, irregularly-updated Multiplex 10 web series (set after the short film) recently launched on YouTube! Learn more about the web series on the official Multiplex 10 website!
Stay up to date on all things Multiplex, Multiplex 10 and me (a.k.a. Gordon McAlpin) by subscribing to my newsletter!