Notes from the Manager
Related Strips: #697: Lockdown, Part Seven
So I saw The Avengers on Friday with Zach Miller and thought it was absolutely fantastic. I had a few minor problems, but nothing worth fretting over. It's easily my favorite Marvel super-hero flick (Iron Man and The Incredible Hulk round out the top three).
DO NOT TALK SPOILERS IN THE COMMENTS BELOW, EVEN WITH SPOILER WARNINGS. Don't even talk vaguely about any specific points in the movie. Please be considerate of other people. I've set up a spoiler-friendly Avengers thread over at Deleted Scenes if you want to talk spoilers.
See you Thursday! I gotta get ahead on the Book 2 work before I can do another three-strip week.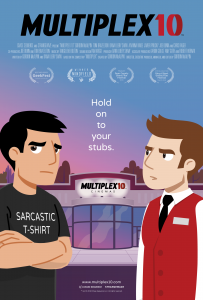 Multiplex 10 is here!
Although Multiplex 10 has ended, an animated prequel/reboot called Multiplex 10 was funded through Kickstarter in 2017 and is NOW AVAILABLE for rent or purchase on Vimeo On Demand, Amazon Video, and elsewhere! And an all-new, irregularly-updated Multiplex 10 web series (set after the short film) recently launched on YouTube! Learn more about the web series on the official Multiplex 10 website!
Stay up to date on all things Multiplex, Multiplex 10 and me (a.k.a. Gordon McAlpin) by subscribing to my newsletter!