Notes from the Manager
Related Strips: #693: Lockdown, Part Three; #694: Lockdown, Part Four; #695: Lockdown, Part Five; #696: Lockdown, Part Six
Ruh roh, Kurt! Looks like the Avengers aren't the only one with a Hulk! (Those are Jamal and Hatterman, if you didn't recognize their hand-drawn incarnations.)
Final notice! The Book 2 Project is closing up shop at midnight tonight! (Or sometime tomorrow.) So no more dawdling — support Book 2 if you want to, or forever hold your peace! You will, of course, be able to pre-order it about a month before the book is released, but this is your last chance to get any of the higher-end rewards, or your name on the Thank You page for Kickstarter and Book 2 Project supporters. Check out the various ways you can contribute in the Multiplex Store.
(If you're curious, we've raised a total of $19,926.42 from the combined funding projects — or $14,612.66 after Kickstarter, Amazon, and PayPal fees have been deducted, and money for taxes has been set aside. In other words, that smaller number is the actual book budget.)
Speaking of The Avengers, which comes out today in the US: Who's gonna see it? Who's taking an ethical stand against seeing this movie because of whatever? Who's already seen it because you live in some other fuckin' country? And who is gonna wait for a while for the crazy crowds to die down before they see it?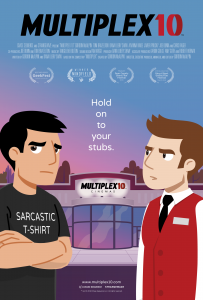 Multiplex 10 is here!
Although Multiplex 10 has ended, an animated prequel/reboot called Multiplex 10 was funded through Kickstarter in 2017 and is NOW AVAILABLE for rent or purchase on Vimeo On Demand, Amazon Video, and elsewhere! And an all-new, irregularly-updated Multiplex 10 web series (set after the short film) recently launched on YouTube! Learn more about the web series on the official Multiplex 10 website!
Stay up to date on all things Multiplex, Multiplex 10 and me (a.k.a. Gordon McAlpin) by subscribing to my newsletter!