Notes from the Manager
Related Strips: #674: Cut; #686: Reshoot/Recap; #687: Insolence of the Dead
I am running behind on the Thursday strip enough that I decided to split it in half.The other half will post on Friday.
Once again, zombie that isn't the Blogger is one of the Multiplex Movie Sponsors: Chris Hennes!
Since I'm posting this on Wednesday instead of Friday, I guess I can mention this again: The Kickstarter fundraiser for Book 2 is in its final 24 hours! (If I had planned this, I would have told you on Monday, I swear!) We now have 321 very generous backers (as of this writing) — more than for Book 1, and have raised over $4,000 more than Book 1, as well. Thank you very, very much to everybody involved!
As an extra thank you to the Kickstarter backers, I am giving away TWO sheets of pencils or inks from the zombie movie arc, one each to two random Kickstarter backers. Any backer at any pledge amount is eligible to win. So if you'd like a chance to win a page of hot zombie action (or talking) and put your name down for a copy of Multiplex Book 2 in the process, head over to Kickstarter and pledge!
We are a mere $255 away from the secondary funding goal of $17,500 — which will double the amount of original art I'll give away to four pages of pencils or inks, and also the addition of a Multiplex bookmark to any of the Basic or Super Sponsor Pack reward levels!
Yes, we've passed the funding goal — the amount needed to make sure that Book 2 gets made, but every penny pledged will go toward making Book 2 better, toward preparing for future print collections (for instance, buying 100 ISBN numbers rather than just ten, in order to save money in the long run), for promoting the book (such as convention expenses), and for the continued production of the Multiplex comic.
$17,000 sounds like a lot of money, and it is, but so much of it is spoken for by Kickstarter ($850 and counting) or Amazon fees (approximately $680), taxes (around $3000?), printing (about $7,000?), shipping and shipping supplies (some ungodly amount), and so on — very little of it is actually going toward my living expenses while finishing the book. I will still need to take occasional short freelance projects to make ends meet throughout the summer. The more we raise, the less I will need to do that, the more I can devote to Multiplex, and the better I can make all of it — both the book and the current movie arc, which I know is one of the most popular arcs I've done!
SUPPORT GORDON McALPIN ON PATREON!
Although Multiplex has ended, thanks to readers like you on Patreon, the Multiplex 10 will stay open for business! I'll be posting bonus comics from future print collections, Multiplex Movie Review strips, updates on the upcoming Multiplex 10 animated short, and, of course, other non-Multiplex stuff.
In addition to the warm, soothing feeling of being a patron of the arts, Patreon supporters get access to free Multiplex eBooks, sneak previews of upcoming comics and other behind the scenes peeks, sketch giveaways, and more!
Multiplex News & Updates
Bonus comics, drawings, and
other awesome stuff
Saturday, April 29, 2017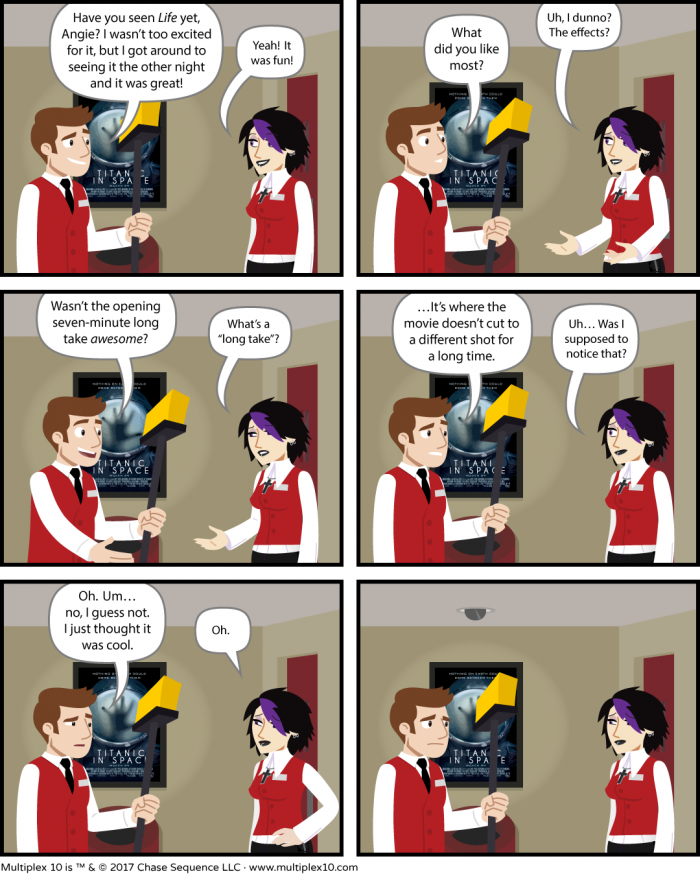 Angie, like Franklin, is another significant character from Multiplex who only gets a brief cameo in the pilot episode. So here she is in a Multiplex 10 comic strip.
At nearly $13,250 (as I write this), we're allllllmost at 90% funding with EIGHT DAYS to go. We need your support to make this pilot happen — and to help distribute it so that we can make more than just one episode! Check out the Multiplex 10 Kickstarter project page today! (Please.)
Also, in case you missed it, there were a couple of new… uh, I'm not sure how to refer to them. "Promo comics," I guess? The Multiplex 10 versions of Melissa & Becky and Franklin introduce themselves and talk about the animated short and one of the Kickstarter milestones, like the Kurt & Jason one I posted here a while ago. I posted those around the social medias and the separate, Multiplex 10-specific site, which some of you may not know about.
Other Recent Posts