Notes from the Manager
Related Strips: #671: Tension; #672: Flashback
That's all, folks! I hope all of you have enjoyed the crossover with Shortpacked!
Hopefully I'll see all of you again next week when we get back to the current storyline in Multiplex, where the gang is filming their zombie movie. (New readers from Shortpacked! will want to at least start from Chapter 26, if not the beginning of the strip entirely, in order to get caught up.)
One minor point of continuity for Multiplex readers: this crossover is actually set after the next few strips. (I'll be rearranging them in any collections I do at a later date.) The only thing that has to do with anything is that Phantom Menace 3D came out in February, so (since the strip is set in real time) obviously they took place then. And the next few strips finishing off Chapter 27 are set in January, when they gang is just getting back to filming their movie.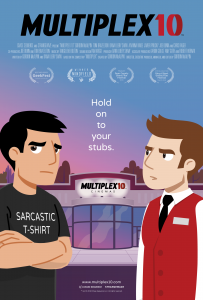 Multiplex 10 is here!
Although Multiplex 10 has ended, an animated prequel/reboot called Multiplex 10 was funded through Kickstarter in 2017 and is NOW AVAILABLE for rent or purchase on Vimeo On Demand, Amazon Video, and elsewhere! And an all-new, irregularly-updated Multiplex 10 web series (set after the short film) recently launched on YouTube! Learn more about the web series on the official Multiplex 10 website!
Stay up to date on all things Multiplex, Multiplex 10 and me (a.k.a. Gordon McAlpin) by subscribing to my newsletter!