Notes from the Manager
Related Strips: #658: Calling the Shots, Part One; #659: Calling the Shots, Part Two
Welcome back. If you stopped by yesterday, you know that I had a little redirect going on, blacking out the site in protest of SOPA and PIPA.
And, as you can see, we've got another pencils-only post. I'm afraid this will likely continue for a few more updates. I'll post the inked and toned strips as I can get through them and hopefully get caught up soon.
But I've been more than a little swamped between a few freelance projects all hitting the fan this week and into next, and so that's what's up. Bills come first, and unfortunately, Multiplex doesn't pay them.
UPDATE (1/22): Got sidelined by a freelance project that I can't tell you about just yet, Multiplex #661 won't be up until Monday afternoon, I'm afraid — but it's a comic strip! For a very cool website! So hey, that's good, right?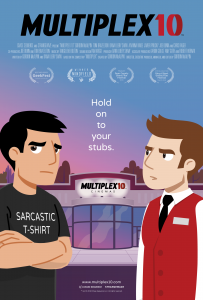 Multiplex 10 is here!
Although Multiplex 10 has ended, an animated prequel/reboot called Multiplex 10 was funded through Kickstarter in 2017 and is NOW AVAILABLE for rent or purchase on Vimeo On Demand, Amazon Video, and elsewhere! And an all-new, irregularly-updated Multiplex 10 web series (set after the short film) recently launched on YouTube! Learn more about the web series on the official Multiplex 10 website!
Stay up to date on all things Multiplex, Multiplex 10 and me (a.k.a. Gordon McAlpin) by subscribing to my newsletter!