Notes from the Manager
Related Strips: #652: Mortal Combat, Part Five; #655: Art Imitating Life
I still haven't caught up on life yet, so I haven't had time to tone this strip (aside from a couple of rough indications where blood would go).
I'll post the finished strip in the next day or two or three or so.
We're continuing immediately from the last time we saw them shooting (Multiplex #652). The not-really-smiling zombie in the first panel is one the Multiplex: the Movie Sponsors, Matt Matonich. (Don't worry, Matt. You'll appear again later in this scene. This isn't all you get.) That one in panel 3 is, of course, Angie's boyfriend Duncan. If you couldn't tell.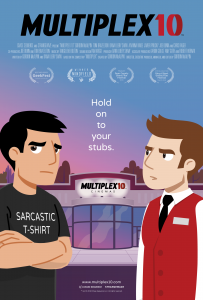 Multiplex 10 is here!
Although Multiplex 10 has ended, an animated prequel/reboot called Multiplex 10 was funded through Kickstarter in 2017 and is NOW AVAILABLE for rent or purchase on Vimeo On Demand, Amazon Video, and elsewhere! And an all-new, irregularly-updated Multiplex 10 web series (set after the short film) recently launched on YouTube! Learn more about the web series on the official Multiplex 10 website!
Stay up to date on all things Multiplex, Multiplex 10 and me (a.k.a. Gordon McAlpin) by subscribing to my newsletter!