Notes from the Manager
Related Strips: #643: If Chins Could Kill; #646: Be Prepared; #647: Ready? Fight!
I've been tied up with studying for the GRE (and taking it) and bill-paying freelance work so unfortunately I didn't finish today's comic. Sorry!
I hate posting unfinished strips, but I hate blowing deadlines more — and since I knew at least a few of you would be interested in seeing these, rather than just wait until it was finished (which could be late tomorrow night or even Friday), I thought I might post the pencils for it instead for now.
This stuff was really intended solely for me to ink over — hence the X's where blacks should be, the inconsistent darkness of the lines, and the lack of blood all over Angie 2's face (I do most of the blood at the toning stage, so I don't draw it out).
Hey, at least now those of you who follow me on Twitter and have to put up with me whining about how much worse my inking is than my pencils know what I'm talking about.
I'll try to get back on track next week…
On the bright side, my studying paid off: my (tentative) scores put me in approximately the 98th percentile and 65th percentile for the Verbal and Math sections, respectively. That means I'm hella smart at words and sorta decent at numbers. (I won't have my Analytical Writing results for a while.)
UPDATE (12/16): I've finally updated the image with an inked and toned version. Thanks so much to Axur Eneas for the toning assist. He did a much better job than I ever do, so I had to make it a little worse to match my stuff. (If you didn't see it, Axur did a fantastic guest strip for Multiplex some time ago.)
Multiplex News & Updates
Bonus comics, drawings, and
other awesome stuff
Saturday, July 1, 2017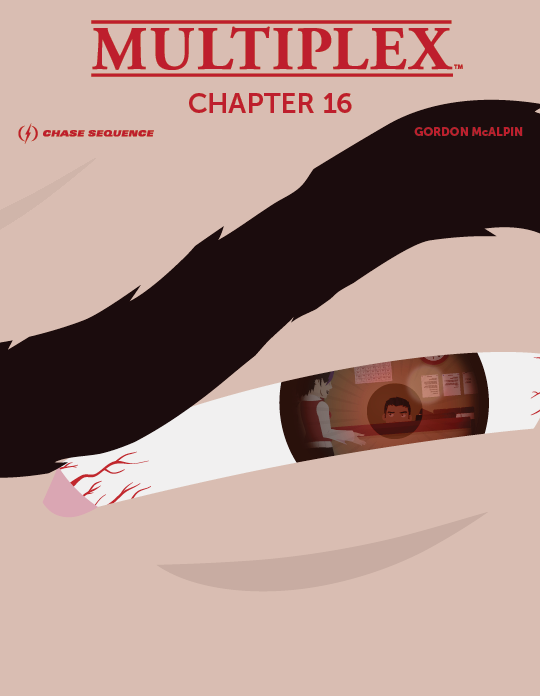 $3+ Patreon supporters get this one for free (until the next eBook is available), but for the rest of youse: The Multiplex: Chapter 16 eBook is now available!
Chapter 16 collects strips #339 –362 from the Multiplex archives, plus four bonus comics and one "extended scene" not found in the archives! Chapter 16 costs $1.99.
Supporting the Multiplex chapter eBooks helps make future Multiplex print collections possible. Thank you for your support!
Other Recent Posts