Notes from the Manager
Related Strips: #637: This Is Foreshadowing
Tender as in human flesh, amirite?
The original inks for this strip — as well as the original pencils and inks for #637 — are available for purchase in the Multiplex Store, if you've ever wanted a piece of Multiplex to own.
New TopWebComics Vote Incentive! You can see my pencils for this strip by voting at TopWebComics (notice that I changed the last panel a little bit before the inking stage).
Happy Halloween, everybody. What'd you dress up as (assuming you did something this weekend), or what are you dressing up as? Me, I'm not a Halloween guy. As an ex-bartender, all the major drinking holidays are pretty much just annoying to me now, so I just stayed home all weekend.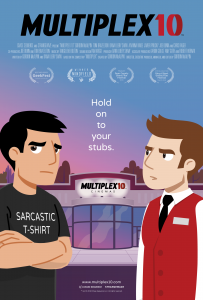 Multiplex 10 is here!
Although Multiplex 10 has ended, an animated prequel/reboot called Multiplex 10 was funded through Kickstarter in 2017 and is NOW AVAILABLE for rent or purchase on Vimeo On Demand, Amazon Video, and elsewhere! And an all-new, irregularly-updated Multiplex 10 web series (set after the short film) recently launched on YouTube! Learn more about the web series on the official Multiplex 10 website!
Stay up to date on all things Multiplex, Multiplex 10 and me (a.k.a. Gordon McAlpin) by subscribing to my newsletter!