Notes from the Manager
Related Strips: #627: Greenlit
In case you've forgotten who "Sarah" is, she's the new assistant manager, who has only appeared once before.
What Jason's talking about doesn't really apply just to black characters, but all minority characters, and while it's going away… slowly… there are still a ton of examples of it. (Look, I don't make this shit up. I observe.) And, to be fair, to some extent, it mirrors reality. Interracial relationships weren't nearly as common 20-some years ago as they are now, although obviously they happened. I mean, duh… I'm the product of one.
I have to admit, after having Franklin be an equal opportunity player for the last several years, when I decided to have him start dating Tease (secretly, so far), it occurred to me that it could be construed as falling in line in with this trope, which I do notice a lot in fiction and sometimes find a it a bit disconcerting.
But since I didn't create Letizia expressly to date Franklin, I didn't care. The fact is, no matter what I do, some jerk-ass could read whatever imaginary message they want into just about every single strip I do, so why worry about it?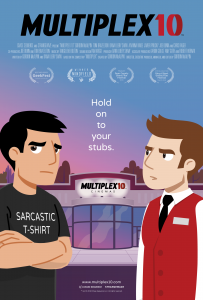 Multiplex 10 is here!
Although Multiplex 10 has ended, an animated prequel/reboot called Multiplex 10 was funded through Kickstarter in 2017 and is NOW AVAILABLE for rent or purchase on Vimeo On Demand, Amazon Video, and elsewhere! And an all-new, irregularly-updated Multiplex 10 web series (set after the short film) recently launched on YouTube! Learn more about the web series on the official Multiplex 10 website!
Stay up to date on all things Multiplex, Multiplex 10 and me (a.k.a. Gordon McAlpin) by subscribing to my newsletter!