Notes from the Manager
Related Strips: #624: Plot Is Overrated
Bronson — which clocks in at 92 minutes (but obviously that's not what Jason was talking about) — is indeed on Netflix Streaming (at least in the US), and it's a flawed film on the whole, I think — a bit too much narration and a bit too theatrical in spots, for my taste, anyway — but Tom Hardy's performance is pretty amazing in it. Those of you who are interested in seeing how he'll turn out as Bane in The Dark Knight Rises should check both it and Warrior out.
We'll see what Kurt and Jason want to talk with Franklin about on Monday (it's not a surprise: it's about the zombie movie they're making).
What are you planning on seeing this weekend? Me, I've been dying to see Drive (which is from Bronson director Nicolas Winding Refn) and Attack the Block, which has been out for a while (in limited release), but I haven't had time to check it out yet.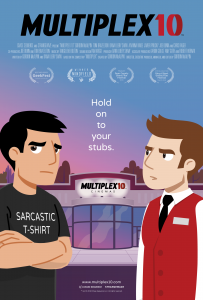 Multiplex 10 is here!
Although Multiplex 10 has ended, an animated prequel/reboot called Multiplex 10 was funded through Kickstarter in 2017 and is NOW AVAILABLE for rent or purchase on Vimeo On Demand, Amazon Video, and elsewhere! And an all-new, irregularly-updated Multiplex 10 web series (set after the short film) recently launched on YouTube! Learn more about the web series on the official Multiplex 10 website!
Stay up to date on all things Multiplex, Multiplex 10 and me (a.k.a. Gordon McAlpin) by subscribing to my newsletter!