Notes from the Manager
Related Strips: #623: If It Looks Like the Living Dead and Acts Like the Living Dead…
Kurt's comment about Joel Edgerton's character winning is basically straight from my girlfriend's mouth, and she did not see the movie, so it's not a spoiler.
I, however, did see Warrior and won't say whether or not that comment is accurate, but I will say that it was a really good movie — in spite of the inevitability of most of the story's plot points. I even got a little teary in a spot or two, but that's not really unusual when I'm enjoying a movie with well-rounded characters and a modicum of well-executed drama.
Here's the trailer:
Nick Nolte was amazing as Joel Edgerton and Tom Hardy's reformed drunk of a father, and the two leads themselves were excellent, as well, as anyone who's seen either of them in other films would expect. Joel Edgerton was, as Jason says, great in the 2010 crime film Animal Kingdom. If you haven't seen it, it's fantastic, and well worth tracking down. Edgerton will also be seen in the upcoming prequel to The Thing. Called The Thing.
The film hasn't done well at the box office, because people seemed to be more interested in Contagion, but if you like boxing movies, you should check it out (not that Warrior is a boxing movie, but it leans heavily on those tropes).
(By the way, I saw Warrior with my friend — and former Boxcar Comics brother — Zach Miller of Joe and Monkey, and you should read his comic.)
Oh, and Jason is wearing a T-shirt sporting the logo for Twitch, one of the best movie news sites on the interwebz (hopefully they don't mind). Kurt's shirt is pretty obvious, I think. Just squint harder if you can't tell what it is; you've seen it before.
Anyway. So what'd you see this weekend, and what'd you think?
SUPPORT GORDON McALPIN ON PATREON!
Although Multiplex has ended, thanks to readers like you on Patreon, the Multiplex 10 will stay open for business! I'll be posting bonus comics from future print collections, Multiplex Movie Review strips, updates on the upcoming Multiplex 10 animated short, and, of course, other non-Multiplex stuff.
In addition to the warm, soothing feeling of being a patron of the arts, Patreon supporters get access to free Multiplex eBooks, sneak previews of upcoming comics and other behind the scenes peeks, sketch giveaways, and more!
Multiplex News & Updates
Bonus comics, drawings, and
other awesome stuff
Saturday, April 29, 2017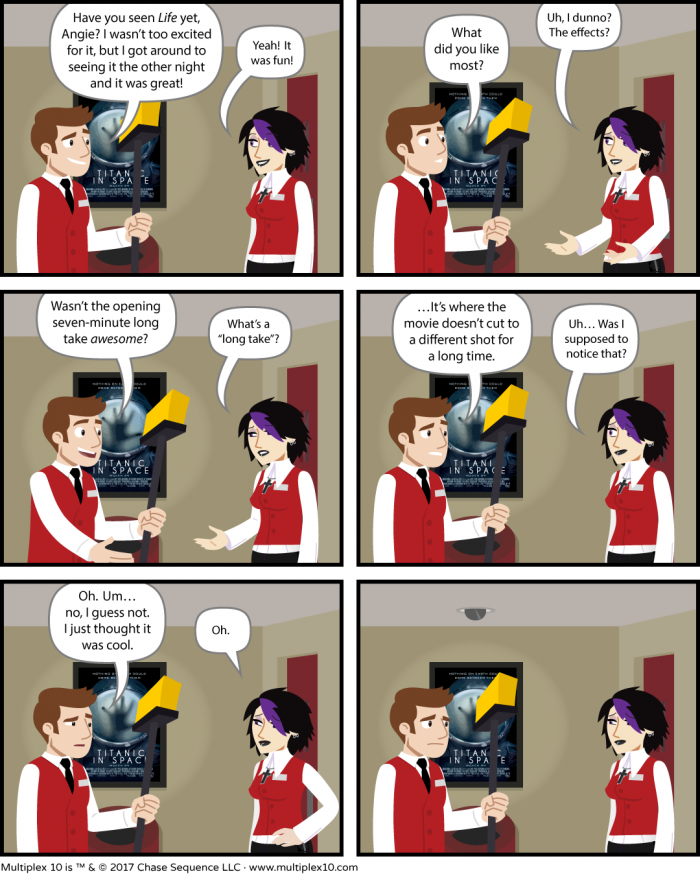 Angie, like Franklin, is another significant character from Multiplex who only gets a brief cameo in the pilot episode. So here she is in a Multiplex 10 comic strip.
At nearly $13,250 (as I write this), we're allllllmost at 90% funding with EIGHT DAYS to go. We need your support to make this pilot happen — and to help distribute it so that we can make more than just one episode! Check out the Multiplex 10 Kickstarter project page today! (Please.)
Also, in case you missed it, there were a couple of new… uh, I'm not sure how to refer to them. "Promo comics," I guess? The Multiplex 10 versions of Melissa & Becky and Franklin introduce themselves and talk about the animated short and one of the Kickstarter milestones, like the Kurt & Jason one I posted here a while ago. I posted those around the social medias and the separate, Multiplex 10-specific site, which some of you may not know about.
Other Recent Posts