Notes from the Manager
Related Strips: #623: If It Looks Like the Living Dead and Acts Like the Living Dead…
Kurt's comment about Joel Edgerton's character winning is basically straight from my girlfriend's mouth, and she did not see the movie, so it's not a spoiler.
I, however, did see Warrior and won't say whether or not that comment is accurate, but I will say that it was a really good movie — in spite of the inevitability of most of the story's plot points. I even got a little teary in a spot or two, but that's not really unusual when I'm enjoying a movie with well-rounded characters and a modicum of well-executed drama.
Here's the trailer:
Nick Nolte was amazing as Joel Edgerton and Tom Hardy's reformed drunk of a father, and the two leads themselves were excellent, as well, as anyone who's seen either of them in other films would expect. Joel Edgerton was, as Jason says, great in the 2010 crime film Animal Kingdom. If you haven't seen it, it's fantastic, and well worth tracking down. Edgerton will also be seen in the upcoming prequel to The Thing. Called The Thing.
The film hasn't done well at the box office, because people seemed to be more interested in Contagion, but if you like boxing movies, you should check it out (not that Warrior is a boxing movie, but it leans heavily on those tropes).
(By the way, I saw Warrior with my friend — and former Boxcar Comics brother — Zach Miller of Joe and Monkey, and you should read his comic.)
Oh, and Jason is wearing a T-shirt sporting the logo for Twitch, one of the best movie news sites on the interwebz (hopefully they don't mind). Kurt's shirt is pretty obvious, I think. Just squint harder if you can't tell what it is; you've seen it before.
Anyway. So what'd you see this weekend, and what'd you think?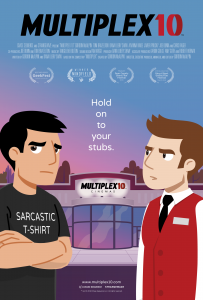 Multiplex 10 is here!
Although Multiplex 10 has ended, an animated prequel/reboot called Multiplex 10 was funded through Kickstarter in 2017 and is NOW AVAILABLE for rent or purchase on Vimeo On Demand, Amazon Video, and elsewhere! And an all-new, irregularly-updated Multiplex 10 web series (set after the short film) recently launched on YouTube! Learn more about the web series on the official Multiplex 10 website!
Stay up to date on all things Multiplex, Multiplex 10 and me (a.k.a. Gordon McAlpin) by subscribing to my newsletter!